Do you have a photo of this soldier? Do you have a bio of your ancestor who served in the 38th Ga.? If you send it, I'll post it here. Please email me at dnichols16@cox.net.
---------------------------------------------------------
Alexander, Philemon W. (or Pleasant W.) "Phil" - Enlisted as a Pvt. in Co. E, 4th Regiment Ga. Inf. April 28, 1861. Discharged, furnished Ulysses M. Robert as substitute, October 23, 1861. Enlisted as a Pvt. in Co. F, 38th Regt. Ga. Inf. January 23, 1862. Appointed Quartermaster Sgt. April 1, 1862. Wounded and captured at Gettysburg (shot through the hip by rifle ball), Pa. July 3, 1863. Exchanged at City Point, Va. August 28, 1863. Appointed paymaster clerk in C. S. Navy April 1864. Paroled at Augusta, Ga. June 3, 1865. Born 1842, clerk, single, residing with mother Savannah Alexander and one brother in 1860. Mother's personal estate was valued at $13,543. Source: 1860 US Census records for Elbert County, GA, 1860, page 113.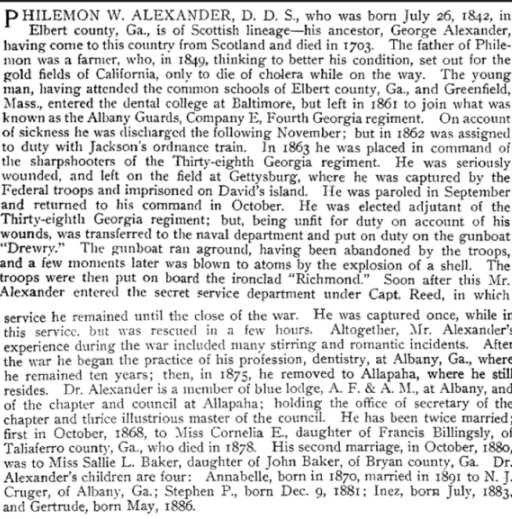 Source of bio: Memoirs of Georgia, vol. 1 (Atlanta: Southern Historical Association, 1895), pages 312-313
An interesting article titled "With the 38th Georgia" appeared in THE CONFEDERATE VETERAN MAGAZINE, in 1918 and describes the attack of the 38th Ga. on the right flank of the Federal Army on the first day of the battle of Gettysburg, on July 1st, 1863:
"When within about seventy-five yards, General Barlow, command the Federal line, opened fire. We raised the Rebel yell and continued our advance. When we reached the creek, the gallant Capt. W. L. McLeod, commanding the 38th Georgia Regiment, was killed, and Lieutenant Oglesby, of Elberton, and Lieutenant Matthews, of Tennille, Ga., were severely wounded. We were now nearly together. Sergt. Maj. Phil Alexander ordered a Federal soldier to throw down his arms. He started to comply, and Alexander ordered another to the same thing. Glancing at the first man, who was raising his gun to fire, Alexander turned on his right heel and struck him with a heavy sword, splitting his head wide open. The gun went off at the same instant, sending a Minie ball through Alexander's hip."
1st Sgt. Francis L. Hudgins
38th Georgia Regt.