Have a photo of this soldier you'd like to share? Have a bio or obituary of your ancestor? If you send it to me at dnichols28@verizon.net I'll post it on this website.
---------------------------------------------------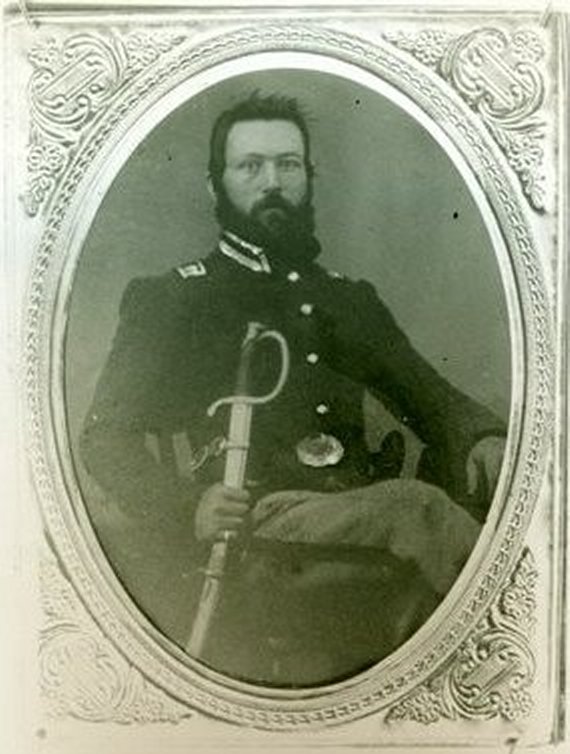 Phillip Edwin Davant (or Philip) was born in March, 1834, at Crawfordville, Taliaferro County, Georgia. He was the son of James Davant (1783-1859) and Martha Carlton Mathews (1798-1842.)
He graduated from Mercer University in 1853 and married Hortense Moore about 1857. They had three children by 1860, James E, age 3, Martha, age 2, and Ellen, 6 months. Phillip and his family lived in the small town of Hartwell, in Hart County, Georgia. Hortense's brother, William A. Moore, age 19, also lived with the family. Phillip was a lawyer of moderate means, with real estate valued at $3,000 and personal property valued at $4,000. Phillip owned five slaves, four females, ages 38, 16, 14, 12 and one boy aged 9.
He was elected Captain of Co. B, 24th Georgia Regiment Ga. on June 9th, 1861 and served until June of 1863. Then Captain Davant was elected Major of the 3d Battalion, Georgia Sharpshooters, on June 8th, 1863. The 3rd Battalion of Sharpshooters was organized during the spring of 1863 and consisted of men who transferred from other Georgia units and those recruited in Richmond and Gwinnett counties. It contained five companies and was soon ordered to Virginia. Assigned to General Wofford's Brigade, it was assigned under Longstreet, but was not engaged at Chickamauga. After serving in East Tennessee, the battalion returned to Virginia. Its' commanders were Lieutenant Colonel Nathan L. Hutchins, Jr., and Majors Philip E. Davant, William E. Simmons, and H.H. Smith.
Major Davant was elected Lieutenant Colonel of the 38th Georgia Regiment Ga., on September 18, 1863. On May 10th, 1864, Gordon's Brigade was posted on the reserve line in the center of the Mule Shoe, at the battle of Spotsylvania Court House. General Gordon has assumed command of the Division, Col. Evans took command of Gordon's Brigade and Lt. Col. Phillip Davant was commander of the 38th Georgia Regiment. On the afternoon of May 10th, the Federals launched 10 regiments in a stunning surprise attack against the Mule Shoe earthworks, overwhelming Dole's Brigade and breaching the Confederate line.
General Gordon reported: On the afternoon of the 10th, I received orders to move my division rapidly from the left of our lines to the support of Rhodes' division, now being heavily assaulted by the enemy. When my division reached this position the enemy had carried the portion of work held by Doles' brigade, Rhodes' division, and had reached a point more than 100 yards in rear of the line. My leading brigade (Johnston's North Carolina) was immediately formed, by direction of Lieutenant-General Ewell, across the head of the enemy's column and ordered to charge. In the mean time Gordon's brigade was also formed and ordered forward. The enemy was driven back with considerable loss, and our lines re-established. The loss in these two brigades was light.
As Hancock's troops were driven out of our lines, the commander of one of my regiments, Colonel Phillip E. Davant of the Thirty-eighth Georgia, became so enthused that he ran in pursuit ahead of his men, and passed some distance beyond the breastworks. A squad of Hancock's retreating men at once halted, and, in the quaint phraseology of the army, "quietly took him in." Davant, surprised to find himself in the hands of Hancock's bluecoats instead of in the company of his Confederate comrades, attempted to give notice to his men in the rear that he was captured. His adjutant, John Gordon Law, my first cousin, heard the colonel's call, and sprang forward through the thicket to aid him. Law was likewise captured.
Col. Davant was carried to Fort Delaware and imprisoned, along with Adjutant Law. Prisoner exchanges were very rare at this point during the war. The vast majority of imprisoned Confederates would remain imprisoned until after the war had ended. Lt Col Davant was one of the very lucky few Confederates to be exchanged, he was placed on a ship and transported to Hilton Head Island, S.C., and was exchanged on June 25th, 1864. Once exchanged, Col. Davant returned to the 38th Ga. and fought through General Early's Valley campaign, culminating in the disaster at Cedar Creek. He, along with rest of the command, returned to Petersburg shortly before Christmas and spent the stark winter in the trenches around Petersburg, Va. He marched to Appomattox, leading the remnants of the 38th Georgia and surrendered his command with General Lee's army on April 9th, 1865.
Lt. Col Davant made his way home and rejoined his family in Georgia. He worked as a school principle and school teacher for the rest of his life. He and Hortense had two other children, Martha, born about 1866, and Clement, born in January 1868. In 1870 he was living in the village of Penfield, Greene County, Georgia, and was working as a teacher. He served as the Principle of Elbert County Military Academy in 1877. In 1880 he lived at Buena Vista, Marion County, Georgia. The year 1900 found him living at the village of Bowling Green, Oglethorpe County, Georgia. He was still serving as school teacher at age 66. He was active in post war Confederate Veteran's organizations and he died in Bulter, Taylor County, Georgia, on Oct 9th, 1906, at the age of 72. He is buried at Butler Memorial Cemetery, Butler, Taylor County, Ga.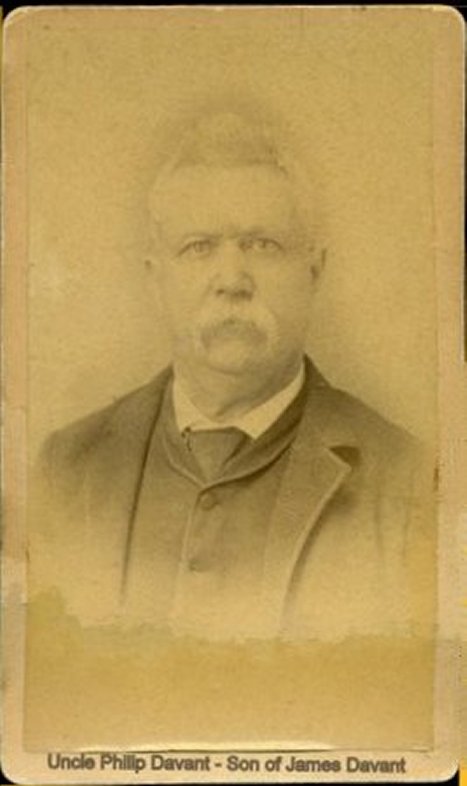 Photos courtesy of Mr. Jack Dodson, descendant of Lt Col Phillip E. Davant.