Have a bio of your ancestor? If you send it, I'll post it here. Please email me at dnichols16@cox.net
-----------------------------------------------------------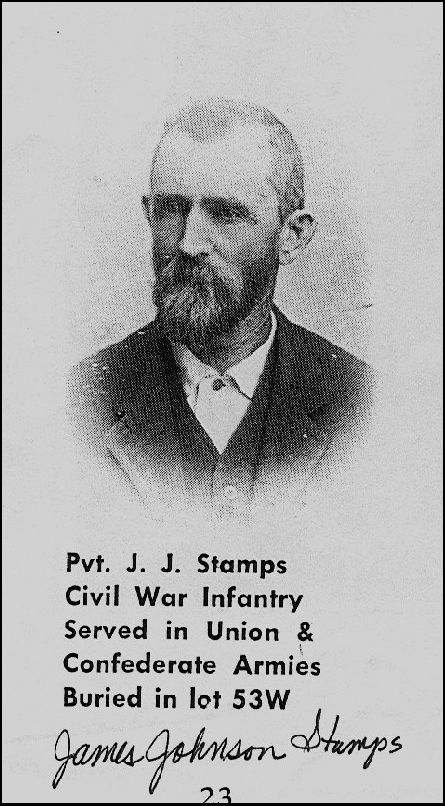 James Johnson Stamps was born April 22nd, 1837 in Georgia. He was the son of Henry and Fannie Roberts Stamps. He married Caroline Partain, daughter of Henry C. Partain and Cynthia Powell, before 1858. They had one daughter, Mary Isabelle Stamps born in 1858, and one son named William Lindsey Stamps, b. 29 August 1861 in Elbert County, GA.
James enlisted in the 38th Georgia Regiment on Oct. 15th, 1861. He was captured at the Battle of Gettysburg on July 3rd, 1863. He was sent to the Federal prison camp at Point Lookout, Maryland.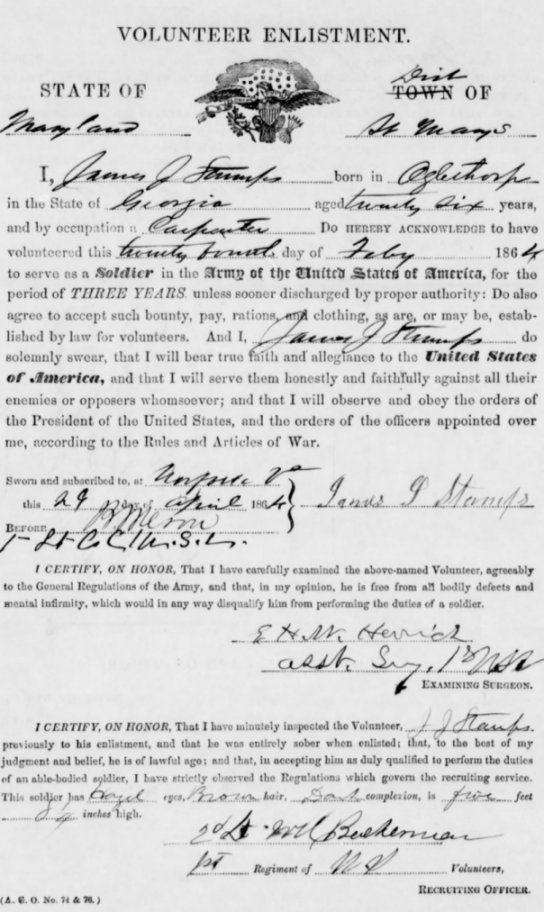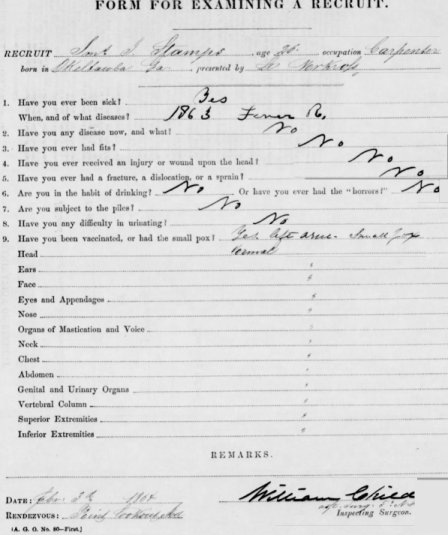 After spending nearly seven months, James took the oath of allegiance to the U.S. government and enlisted in the U.S. Army at Point Lookout, Maryland, on Jan. 24th, 1864.
Confederate soldiers who enlisted in the Federal service were called Galvanized Yankees." James Stamps was assigned to the Company G, 1st U.S. Volunteer Infantry, which was a whole regiment of Galvanized Yankees. They were organized at Point Lookout, Md., January 21 to April 22, 1864. Moved to Norfolk, Va., and provost duty there and at Portsmouth, Va., District of Eastern Virginia, Dept. of Virginia and North Carolina, to August, 1864. Ordered to Milwaukee, Wis., thence to St. Louis, Mo., arriving there August 22. (4 Cos. remained in Wisconsin till September, then ordered to Minnesota to put down an Indian uprising.) Six Companies moved from St. Louis to Fort Rice, Dakota Territory, arriving there October 17, and garrison duty there; at Fort Berthold and at Fort Union, mouth of the Yellowstone, till October, 1865. James Stamps served through April of 1866 until discharged.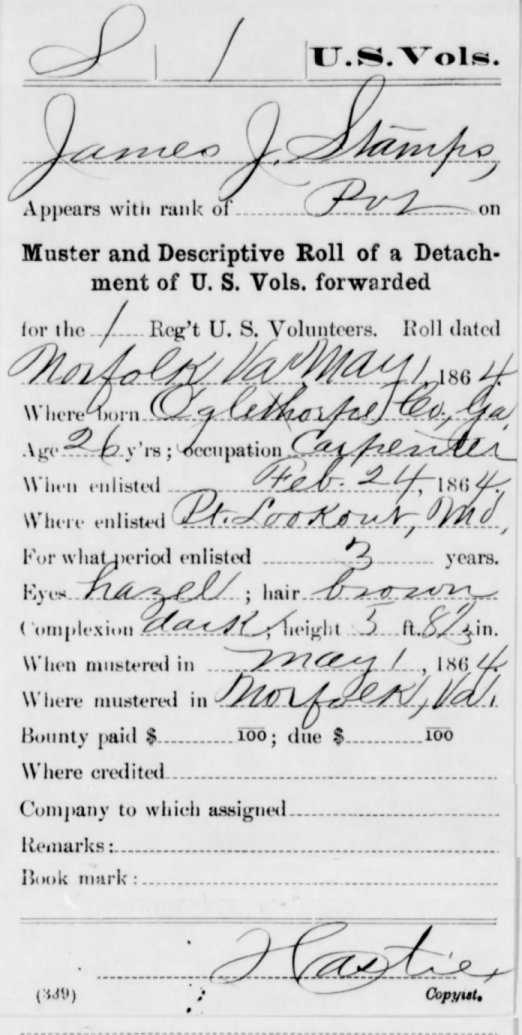 After the war ended in April 1865, it is believed that James returned home to Elbert County, Georgia. He was probably a very unpopular man in Elbert County, since it was probably common knowledge that he had taken the oath of allegiance to the U.S. government and had served in the Union Army. He may have even received death threats and was possibly encouraged to leave Elbert Co.
During the years following the war, James J. Stamps left his wife, Caroline Partain Stamps, and his children in Elbert County, Georgia. He traveled north and settled in Meeker County, Minnesota, the same area he had served in the Union Army.
He met and married a lady named Jane Hunter in 1871 and they had one son, Frank M. Stamps, born about 1872. James Stamps lived the rest of his days in Minnesota and worked as a farmer. It is believed he never returned to Georgia. He died on Dec. 31, 1928 and is buried in Burr Oak Cemetery, lot 53W, Meeker County Minnesota.
His son William Lindsey married Mary P. Hall and died 3 June 1938 in Anderson, South Carolina. He is buried at Old Silverbrook Cemetery, Anderson, S.C.