Have a photo of this soldier you'd like to share? Have a bio or obituary of your ancestor? If you send it to me at dnichols28@verizon.net I'll post it on this website.
---------------------------------------------------------------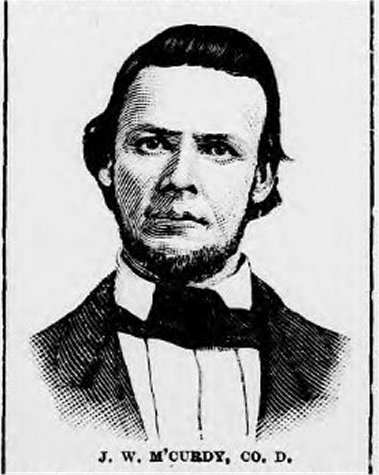 John Wilson McCurdy was born December 11, 1834 in DeKalb County, Georgia. On September 26, 1861, McCurdy enlisted as a private in the "Murphey Guards." He was transferred to the "McCullough Rifles" the following month and detailed as Provost Marshal of Wright's Legion. He was promoted to lieutenant on December 1, 1861. In August 1862, McCurdy was admitted to the hospital in Lynchburg, Virginia, but returned in time to participate in the battle of Sharpsburg on September 17, 1862. During the fight, he led Company D, but as casualties mounted, he took over command of the regiment until he was shot in the right leg four inches above the ankle. Though it wasn't amputated, his leg was rendered useless. Sent first to a hospital in Richmond, he returned to command the company for a few months at the end of 1862 before being going back to the hospital.
By the summer of 1863 he was transferred to the 25th Georgia Battalion (Provost Guard). McCurdy worked in the Atlanta Conscript Bureau and for a time commanded Company G. While on furlough, he married Sarah Jane Carter on October 1, 1863. During the Atlanta campaign, he was detailed as a guide for the Army of Tennessee, but was released from that duty when the army undertook the Nashville campaign in October 1864. At war's end, he was discharged at Yellow River, Georgia, still on crutches from his 1862 wound.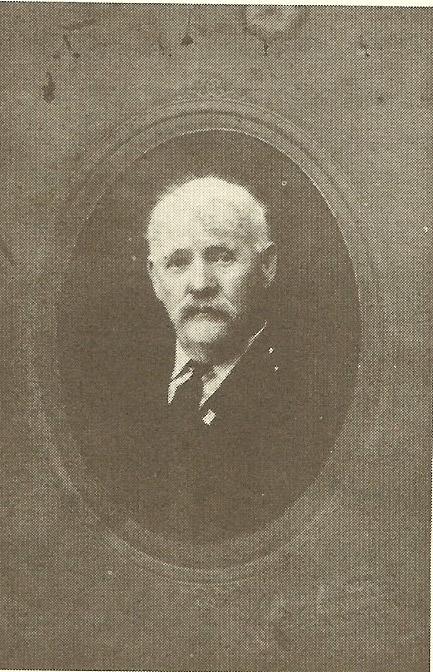 Post War Photo
McCurdy made his postwar living at a variety of jobs, including school teacher, livery stable owner, and grocer. He served as deputy sheriff of DeKalb County, justice of the peace, mayor of Stone Mountain, member of the state legislature for DeKalb County, and president of the 38th Georgia Veteran's Association. He was also a member of the Clement A. Evans Camp 665 of the United Confederate Veterans and Stone Mountain Masonic Lodge No. 111. Known as "Judge" McCurdy, he died on March 9, 1922 at age 87 and is buried at Stone Mountain Cemetery, DeKalb Co. Ga. . The Clement Evans Camp passed and published memorial resolutions, among which they noted:
He was a brave soldier, an upright citizen and a Christian gentleman and will long be missed in his home town.…Camp Evans extend[s] to the family and friends of our deceased comrade its heartfelt sympathy in their great loss of a worthy father and citizen, and we can only point them to where he has gone, to a home more glorious and bright, a home not made by mortals, but eternal in the heavens, where we can some sweet day clasp hands with him again, for Jesus had said: "I am the Resurrection and the Life and he who believes on me shall not perish, but have eternal life."
Source:
Confederate Veterans of Stone Mountain
By Chris Davis
A Project of The Confederate Memorial Camp 1432, 2000