Have a photo of this soldier you'd like to share? Have a bio or obituary of your ancestor? If you send it to me at dnichols28@verizon.net I'll post it on this website.
-------------------------------------------------------------------
All three Bagwell's in this company were brothers and sons of Phembe and Nathaniel Bagwell (B. 1812 - D. aft 1864.) The 1860 US Federal Census reveals they lived in Alpharetta District of Milton County, Georgia. Their father, Nathaniel owned real estate valued at $1800 and personal property valued at $500. All of this family was born in North Carolina, Nathan is recorded as having been born in Wake County, North Carolina. All three boys were single and living at home in 1860. All three boys enlisted together on October 6th, 1861. The Bagwell family paid a heavy price for supporting the Confederate cause. Two out of three of the Bagwell boys were killed in action and the remaining son came home a cripple, with only one leg, the other being amputated by a "Yankee surgeon."
1. John Y. Bagwell Pvt. 10/6/1861. Wounded at 2d Manassas, Va. 8/28/1862. Killed at Newtown, Va. August 11, 1864. Born in N.C. about 1842.
From a letter written by Lt. Simpson Hagood, dated 8/13/1864: "I am very much pained to have to state that in one of these (skirmishes) at Newtown, Va John Y. Bagwell was killed. John was a kind, generous, truthful & brave young man. In fact he was too brave to protect or take proper care of himself before the Enemy. he was a member of the Sharpshooting Battalion of our Brigade and it was his privilege as well as his duty to seise on every opportunity of sheltering himself while under fire, yet he wouldn't do so, but at all times rushed forward far in advance of the line. he only lived a few moments after the fatal Ball pierced his Breast. he only spoke one or two words but they could not be caught by his friends. we had him as nicely buried as the circumstances would permit." Courtesy of Mr. John Davis and Ms. Katherine Cash Emerson, descendants of Lt. Hagood.
2. Bagwell, Nathan B. (Nathan Bennett Bagwell) - Pvt. 10/6/1861. Appointed 4th Sergeant in 1862. Wounded in left leg and captured at Antietam, Md. September 17, 1862. Paroled at Fort McHenry, Md. November 1862. Received at City Point, Va. for exchange in 1862. Leg amputated below knee in 1862. Absent, wounded, close of war.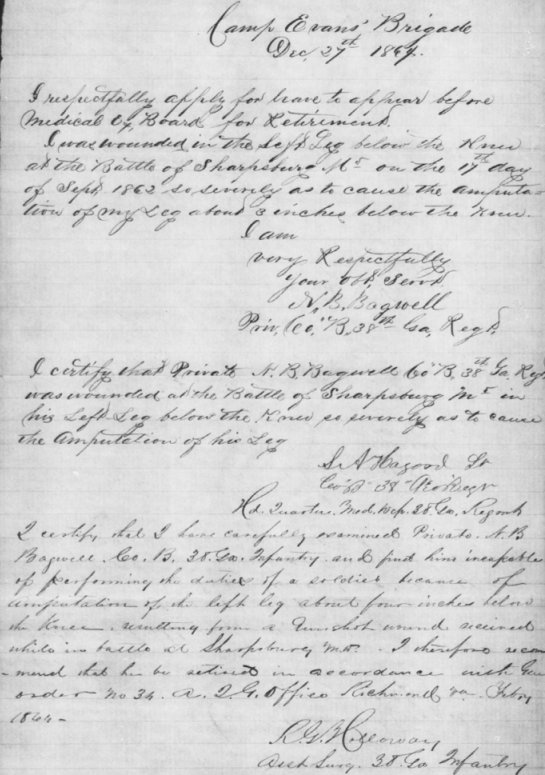 Nathan's discharged record signed by Dr. Robert Holloway, Assistant Surgeon of the 38th Georgia. This document states he was born in Wake Co., N.C., farmer by profession, was age 22 in Jan 1865, was discharged due to permanent disability in the loss of left leg due to gunshot wound, according to CSA service records.
3. William G. Bagwell - Pvt. 10/6/1861. Killed at Winchester, Va. June 13, 1863. Son of Nathaniel Bagwell, father filed a claim for any monies owed his son in Jan., 1864. Born in N.C. about 1846.