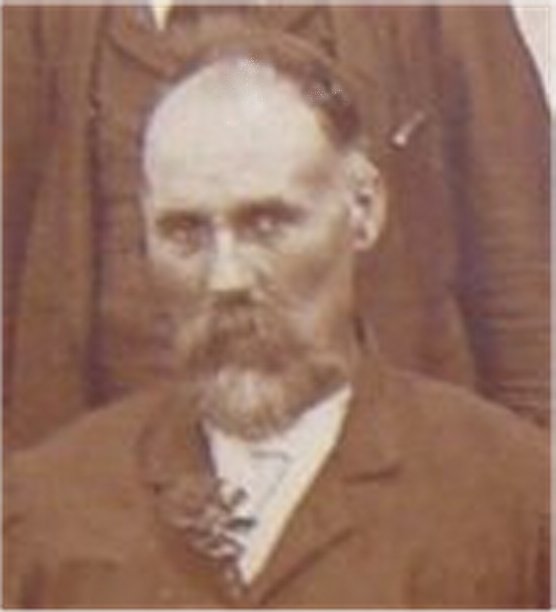 John W. Goswick was born on Sept. 11th, 1839, in Lumpkin Co. Georgia. He was the son of Thomas Goswick and Lucinda Conaway.
John enlisted as a Private in Co. H, 1st Regiment Ga. Inf. (Ramsey's,) 7/21/1861. He was mustered out at Augusta, Ga. March 18, 1862.
He was elected Jr. 2d Lt. of Co. I, 38th Regiment Ga. Inf. on May 6th, 1862; 2d Lt. September 2, 1862; 1st Lt. 9/2/1862. Captured at Fredericksburg, Va. 12/13/1862. Exchanged. Elected Captain 2/25/1864. Wounded through right shoulder at Spotsylvania, Va. May 12, 1864, listed among wounded received in Richmond, Va, Officers Baptist Institute Hospital, from the Richmond Examiner, 5/19/1864. Wounded near Canton, Ga. September 19, 1864. Pension records show he was at home on wounded furlough close of war.
He married Margaret Castleberry, daughter of William Madison Castleberry and Sarah Wallace, about 1861 in Georgia. They had the following children:
o Marion Wesley James Goswick b. 3 Mar 1865, d. 18 Nov 1918
o Robert Elbert H. Goswick b. Mar 1866, d. 1943
o William Ellis 'Bill' Goswick b. 6 Jan 1868, d. 30 May 1959
o Henry A. Goswick
o John Thomas 'Tom' Goswick b. 25 May 1873
o Fred E Goswick b. Dec 1875
His wife Margaret, was born b. 3 Nov 1839 and died 27 Oct 1910. John lived about twelve years after her death and he died on 27 March 1922 in Atlanta, Fulton Co., Georgia, Confederate Soldier's Home, at age 82 from a Cerebral Hemorrhage. Buried at Alpharetta Cemetery, Alpharetta, Fulton County, Ga.