Have a photo of this soldier? Have a bio or obituary of your ancestor? If you send it to me at dnichols28@verizon.net I'll post it on this website.
----------------------------------------------------------------
Honoring and remembering Private Patrick Henry Hansard, of Company H, The Goshen Blues, from Elbert County, Georgia.
He enlisted as a Private 11/18/1863. He was captured at Harper's Ferry, Va. 7/8/1864 and paroled at Elmira, N.Y. 10/11/1864. He was exchanged on 10/29/1864 and admitted to Ocmulgee Hospital at Macon, Ga., 11/15/1864. He was transferred 11/18/1864, place not stated. No later record. First name found in CSR. Born 10/19/1845 in Elbert Co., Ga. Filed a CSA pension application in Clarke Co. in 1889. Filed a CSA pension application in DeKalb Co., Alabama. Died 1/9/1897. Buried at Town Creek Baptist Church Cemetery, Chavies, DeKalb Co., Alabama. Mason symbol on grave marker.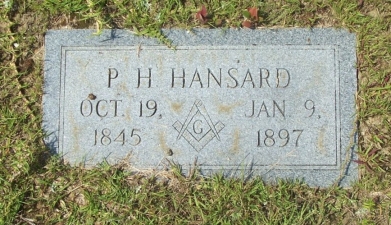 Find A Grave Link:
https://www.findagrave.com/memorial/20760472/patrick-henry-hansard