Have a bio or obituary of your ancestor? If you send it to me at dnichols16@cox.net I'll post it here.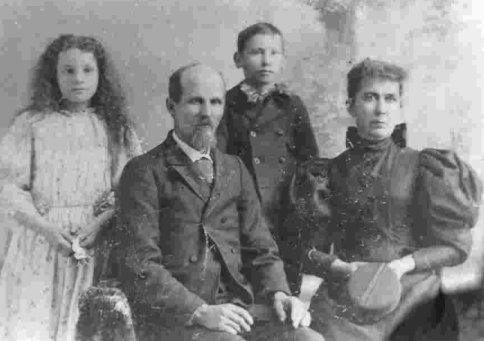 Photo shows Willis and 2nd wife Emma Adams and two children
by first wife Mary Arminda Teasley.
Willis Jefferson Eavenson was born in Elbert County, Georgia on April 5th, 1842. In the year 1860, Willis was single, living at home with his parents George W. and Sarah Thornton Eavenson, along with eight siblings. His father was a moderately wealthy farmer, owning $4000 in real estate and $7000 in personal property, which mainly consisted of the value of seven slaves. Willis enlisted as a private in Company F, 38th Regiment of Georgia Volunteer Infantry on October 17th, 1861.
Two of Willis's brothers also served in Company F, Pvt. Thomas M. Eavenson and 2nd Sergeant John William Eavenson. Thomas was mortally wounded in the battle of 2nd Manassas, but survived just over one year before dying of his wounds. He is buried in the Confederate Section of Woodbine Cemetery, Harrisonburg, Virginia. John was severly wounded in the battle of Fredericksburg, Virginia, on December 13, 1862. He was struck by a rifle ball in the back his left shoulder, the ball passing through his body and exiting the front. John was so severly wounded he was discharged, but later enlisted again during 1863 in Co. G, 25th Ga. Battn.
Records show Willis was wounded in 1864, though the place and circumstances are not recorded. He was at home on a furlough due to illness, on Nov 6th, 1864. This is the last muster roll that has survived for Company F and there is no later record of Willis's service. Willis and his brother Sergeant John Eavenson survived the war and returned to Elbert County, Georgia.
Willis married Mary Arminda Teasley (1848-1889), daughter of Thomas Jefferson Teasley, on October 17th, 1865, in Hart Co., Georgia. Willis and Mary had eight children, there were named George Harper, William Allen, Eula Beatrice, Bessie, Fannie, Cora, Carrie and Thomas Eavenson. When Mary died in 1889, Willis married Emma Adams on 22 Nov 1893 Madison Co., Georgia. Willis died on April 17th, 1919 and is buried at Concord Methodist Church, Elbert County, Georgia. Willis's brother, Sergeant John William Eavenson, lived to be 95 yeas old and died in 1935.
Photo and family information courtesy of Mr. Chandler Eavenson, descendant of Willis J. Eavenson.
--------------------------------------------
The following Will appears in Will Book C, pages 459-460, Elbert Co., GA:
"I Willis Jefferson Eavenson of Elbert Co., Ga. being of sound mind and memory do make publish and declare this to be my last Will and testament to wit:
"First - I give devise and bequeath to my dear wife Emma E. Eavenson of my real estate one hundred and fifty acres (150) of land, to include upon it my present place of residence and the outbuildings upon and about the premises
of the same. The above amount of land is to be held by my wife Emma E. Eavenson during her natural life or widowhood. At her death or if she should cease to be my widow by marryng again, then the above amount of land returns to my estate, to be disposed of as directed in a following clause or item of this Will.
"Second - I also give devise and bequeath of my perishable property to my wife Emma E. Eavenson, all of my household and kitchen furniture remaining after giving to my children Carrie and Thomas an amount of money or things so as to have them share equally and alike with my married children. I also give, devise and bequeath to my wife Emma E. Eavenson two mules or horses, one cow, one buggy, one wagon and the farming tools. What remains of the above perishable property after my wife's death or her widowhood is to be disposed of as directed in item one applying to the real estate.
"Third- I devise and direct that after the requirements of the above items shall have been met and fulfilled that whatever of both real and perishable property, remains be sold according to the law and when all debts burial
expenses and the cost of a suitable monument for my grave is deducted then the remainder is to be divided so that each of my children Viz - Harper's to his children Julian and Maud, William A., Eula B., Bessie J., Cora E., Fannie O., Carrie and Thomas Jefferson, or to their lawful representatives so that each and all shall share equally and alike. If my estate should be divided before my wife dies then at her death what I leave according to this
Will to her is to be equally divided among my children or their heirs.
Fourth- I appoint as administrators of this my last Will and testament my sons William A. and Thomas J. Eavenson.
"Feb. 8, 1906 Signed: Willis J. Eavenson Seal
Witness: Torrance M. Maxwell
M. G. Adams
Robt. O. Maxwell"
The above Will was proved and admitted to record in common form on 5 May 1919 by L. C. Edwards, Ordinary.
------------------------------------------------------
Elberton Star Newpaper
18 Apr 1919
Obituary - Mr. W. J. Eavenson, 78 years old and an old Confederate veteran, died at his home near Concord church on Wednesday night after an extended illness. He will be buried at Concord church cemetery today at 11 o'clock. Mr. Eavenson was one of Elbert's oldest and most highly respected citizens. He is survived by his wife and the following children: Mrs. E. B. Maxwell, Mrs. George C. Bond, Mrs. F. P. Crawford, William A. and Thomas J. Eavenson, of Elbert County; and Mrs. George H. Smith of Greenville, SC.