Have a bio or obituary of your ancestor? If you send it to me at dnichols28@verizon.net I'll post it here.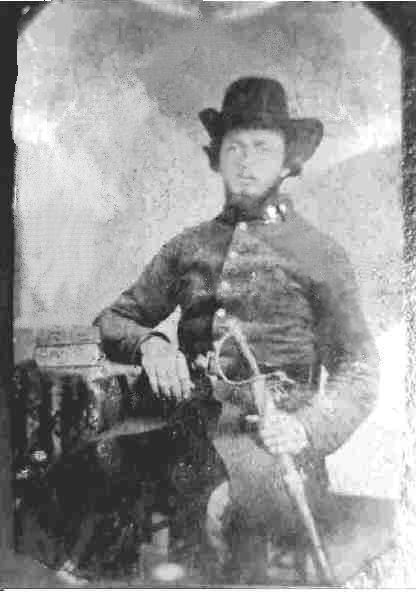 James Chambers Hall, born Jan. 15th, 1832 in Elbert Co., Georgia. He married Mary Adaline Loftis (1832-1885) on Jun 27th, 1850 in Elbert Co. He was commissioned as a 2d Lieutenant 10/15/1861 in Wright's Legion. He was elected 1st Lieutenant on June 1st, 1862, just before the battle of Gaines Mill, Virginia. He contacted typhoid fever was was send to Warick Hospital in Lynchburg, Virginia, where he died on Aug 18th, 1862. His body was packed up and sent home to Elbert Co. and buried in the Hall-Conwell-Fortson family cemetery at Goss, Elbert Co., which is located in front of the former old Hall homeplace, at Goss. In addition to his wife, he was survived by children Martha Emma, Louisa Catherine, John William, Sarah Vileta and George James Hall. He was the son of John Pryor Hall (1797-1838) and Mariah Louisa Turman (1808-1881) of Elbert Co.
Information and photo courtesy of Mr. Chandler Eavenson
The Elberton Star Newspaper, March 23, 1889;
History of Co. H. 38th Ga. Reg.,
BY JEP E. CAMPBELL.
Second Lieutenant James C. Hall, who was a brave and daring officer; fought through many battles, but was never wounded. He was good and kind to his men, and loved to be with the boys. After he was taken sick he would not consent to go to the hospital for several days. He left the command about the first of August, '62, above Orange C. H. Va. He was then taken to the hospital at Lynchburg, Va., where he died of typhoid fever in August 1862. Some of his friends dispatched to his wife of his condition, but she did not reach him until the day after his death. It was his desire that his remains should be sent home for burial, and his wife brought them home with her and buried him in the family burying ground near Goss.
He has five children - two sons and three daughters. His oldest daughter, Miss Emma, married A. C. Maley, who is a prosperous farmer, and lives near Elberton. Miss Louisa, his second daughter, married A. C. Fortson, and now lives at the Hall homestead, near Goss. The third daughter married G. B. Conwell, who is now merchandising at Goss. John, his oldest son, is in the Indian Territory, where he married a few years ago. George, his youngest child, married Miss Lizzie, daughter of Hon. R. E. Adams. He is now merchandising at Ruckersville.
----------------------------------------------
Buried in the Hall-Conwell-Fortson cemetery at Goss, Elbert Co., in front of the former old Hall home place.