Have a photo of Private Milton A. Clark? Have a bio or obituary of your ancestor? If you send it to me at dnichols16@cox.net I'll post it here.
-----------------------------------------------------------
Clark, Milton A. - Pvt. 10/1/1861. Appointed 3d Sgt. in 1863. Wounded in leg, necessitation amputation, at Spotsylvania, Va. 5/12/1864. At home, wounded, close of war. Died Jul 9th, 1913, Kissimmee, Fla. , Buried in Oscelola Co., Fla., stone reads 1842-1913.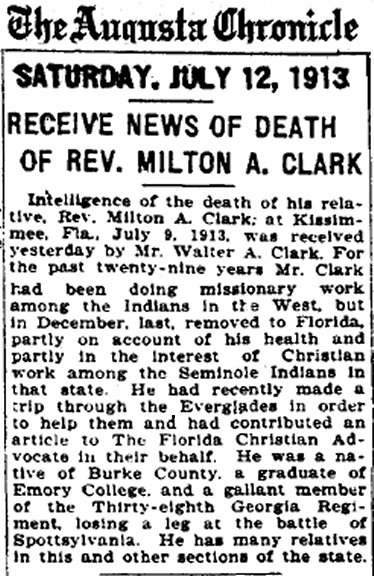 REV. MILTON A. CLARK.
BY WALTER A. CLARK.
In 1852 there came to my father's home, at Brothersville, in Richmond County, Ga., a little boy nine years of age, and doubly orphaned. His father, Charles Clark, son of Charles Clark, Sr., of Westfield, N.J., migrated to Georgia in the opening years of the nineteenth century, locating for a time in Savannah, where he married Eleanor Carswell, granddaughter of Alexander Carswell, who came to Georgia from Ireland about 1770, and who was a lineal descendant of Robert Bruce, Duncan, and other old-time Scottish kings. After a short residence in Savannah, Charles Clark moved to Burke County; and after the death of his first wife, who had borne him nine children, he married Sarah Murphey, daughter of Rev. Nicholas Murphey, a pioneer of Methodism in this section and a grandson of the original Nicholas, who came to Georgia with Oglethorpe on his second trip in 1735. Sixteen children were born of this marriage, the subject of this sketch being the thirteenth installment and the twenty-second child of his father. His mother died when he was seven years of age and his father two years later. He was an inmate of my father's home for eight years, during which time he was a pupil at the Brothersville Academy for four years. Always a model boy as to morals, he entered the communion of the Methodist Church in early life, and on the closing night of the annual service at the Richmond Camp Ground, in September, 1859, was happily converted.
At the age of eighteen he began, teaching in order to secure funds with which to complete his preparation for a college course. He had been engaged in this work but a little while before the war drums were beating and the folds of a new-born flag were waving in the Southern air. Enlisting in Company G, Thirty-Eighth Georgia Regiment, he served for six months on the the coast, when his regiment was transferred to Stonewall Jackson's command only a little while before the opening of the seven days', battles around Richmond. From this date until disabled by a wound May 12, 1864, he rendered brave and faithful service in every engagement of the Army of Northern Virginia, save two that occurred during his enforced absence from his command through illness. While volunteering to bring in a wounded comrade exposed to Federal fire at Spottsylvania, he was struck by the fragment of a shell and his ankle was broken. Confined to the hospital for six months, he came out with wasted form and amputated limb, to serve on the battle line no more. In this connection it is perhaps not amiss to say that his father furnished seven sons and eleven grandsons to Confederate service, seven of whom succumbed to wounds or disease, and three of whom were maimed for life.
When the war had ended, he secured such work as he could get to aid him in completing his education, and in 1870 graduated from Emory College. For four and a half years he engaged in teaching and repaid from his salary the funds he had borrowed for college expenses. In November, 1874, be was licensed to preach, and in December was admitted on trial into the South Georgia Conference. Advising Bishop Pierce, who was presiding, that he was ready to respond to any call in any field, he was transferred to the Denver Conference and stationed at West Las Animas.
It cost him sixty dollars to reach his charge, and he received from that year's work fifty dollars from the Mission Board and twenty dollars from those he served. After four years' work at West Las Animas and Colorado Springs, he became convinced that the Southern Church had no mission in that field, and he located with the view of returning to Georgia; but at the request of the bishop he agreed to supply an unpastored work, and in November of that year (1879) was married to Miss Mary C. Roberts. Dissolving his connection with the Denver Conference, he taught school in Georgia for a year, and was then readmitted into the South Georgia Conference, serving as pastor at Davisboro for three years. In September, 1883, under an appeal from Bishop Pierce, he consented to a transfer to the Indian Mission Conference; and for twenty-six years, despite the handicap of his amputated limb, he has toiled ably, faithfully, patiently, year in and year out, for the salvation of' the Indians. During these years he secured the translation of our Discipline into the Creek and Cherokee languages and organized the first self-supporting charges among the full-blood Indians. Serving for fifteen years as pastor and eleven years as presiding elder, his salary for the labor given and hardships suffered has ranged from $282 to $700.
Source: The Nashville Christian Advocate, 1910.