Have a photo of this soldier you'd like to share? Have a bio or obituary of your ancestor? If you send it to me at dnichols28@verizon.net I'll post it on this website.
---------------------------------------------------------------
Luckey, J. R. - (John R. Luckey) Pvt. 9/26/1861. Appointed Musician in 1861. Transferred to Co. D, 4/1/1862. Captured at Gettysburg, Pa. July 4, 1863. Took oath of allegiance to U. S. Govt. and enlisted in U. S. service at Point Lookout, Md. April 5, 1864.
John R. Luckey was born in DeKalb County, Georgia about 1846. He was the son of Helen and J. D. Luckey. He was living in Stone Mountain, DeKalb Co., Ga. in 1860 with his mother.
Pvt Luckey was listed as drummer, detailed as ambulance driver Nov 24th, 1862, listed as teamster in undated roll and captured July 5th, 1863 at Waterloo. John Luckey was sent to Point Lookout Prison Camp, Maryland.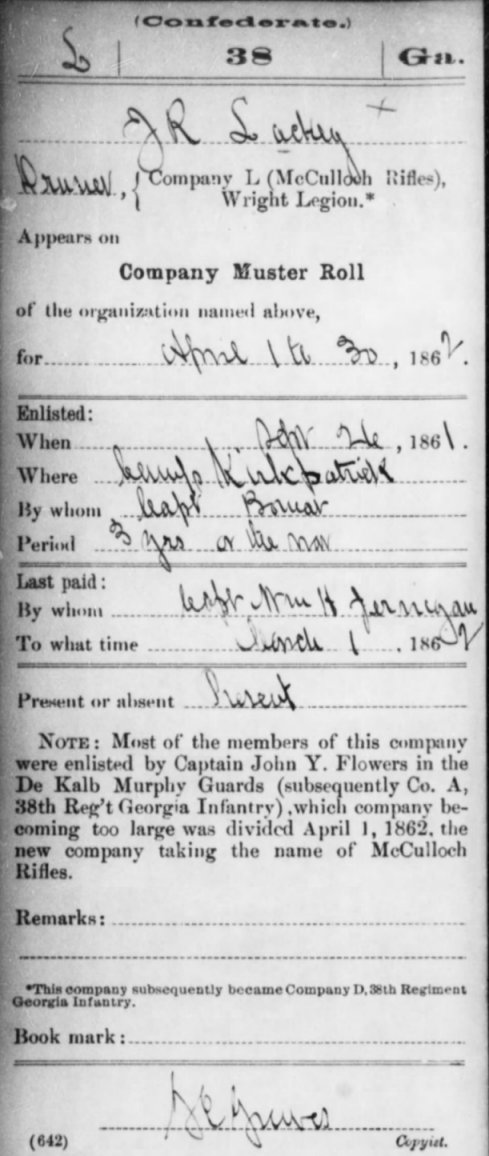 John Luckey enlisted in Company G, 1st Regiment of U.S. Volunteer Infantry and became a "Galvanized Yankee" when he was just 18 years old and died of scurvy, May 28th, 1865 at Fort Rice, Dakota Territory. His remains were removed from Ft. Rice Cemetery and reburied in Custer National Cemetery, Big Horn County, Montana, on March 6th, 1905, in Sec. A #201.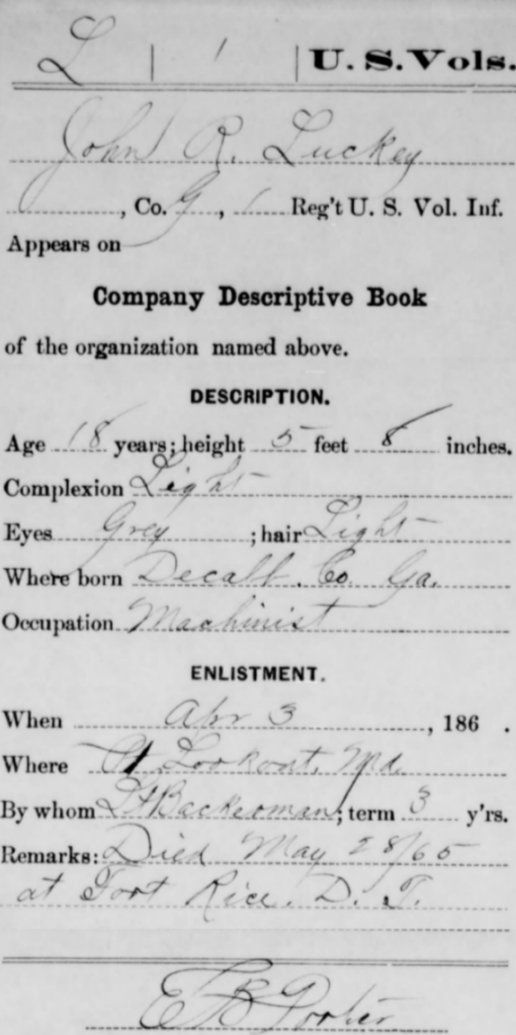 Confederates who enlisted in the U.S. service were known as "Galvanized Yankees." The regiment Luckey enlisted in, the 1st U.S. Volunteer Infantry, was organized at Point Lookout, Md., January 21 to April 22, 1864. Moved to Norfolk, Va., and provost duty there and at Portsmouth, Va., District of Eastern Virginia, Dept. of Virginia and North Carolina, to August, 1864. Ordered to Milwaukee, Wis., thence to St. Louis, Mo., arriving there August 22. (4 Cos. remained in Wisconsin till September, then ordered to Minnesota.) Six Companies moved from St. Louis to Fort Rice, Dakota Territory, arriving there October 17, and garrison duty there; at Fort Berthold and at Fort Union, mouth of the Yellowstone, till October, 1865. Moved to St. Louis, Mo., and mustered out November 27, 1865. Four Companies on duty in District of Minnesota till May, 1866. Mustered out May 21, 1866.