Have a photo of this soldier you'd like to share? Have a bio or obituary of your ancestor? If you send it to me at dnichols28@verizon.net I'll post it on this website.
---------------------------------------------------------------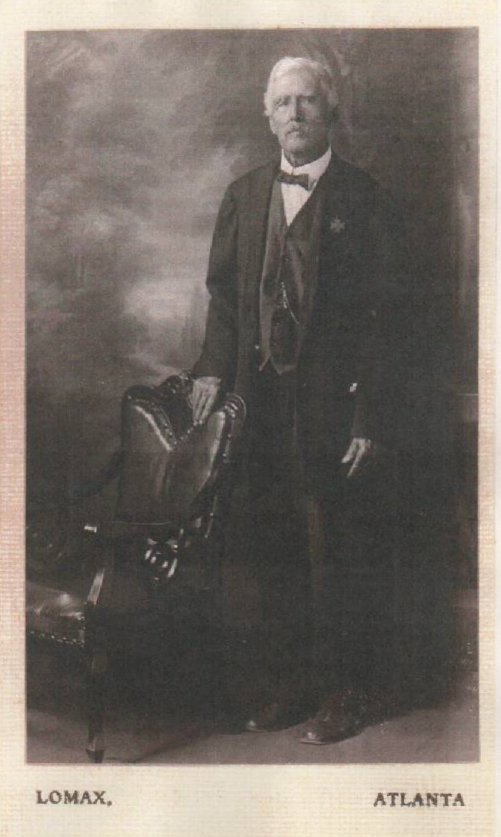 William F. A. Dickerson
Notice in photo above, Sgt. Dickerson is wearing the Southern Cross of Honor mentioned in this article; shown below is the same cross currently owned by Mr. Mike Dickerson, descendant.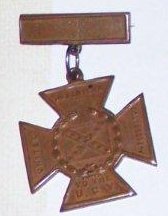 William F. A. Dickerson was born July 25th, 1840 in Tucker, Georgia. Official records show that on March 1, 1862, Dickerson left his family's farm and enrolled at Camp Bartow near Savannah, receiving a $50 enlistment bounty. He was transferred to the "McCullough Rifles" the following month and promoted to Sergeant. Present with the regiment through the Virginia and Maryland campaigns of 1862, Dickerson was wounded at the battle of Fredericksburg, December 13, 1862. In the spring of 1863, he was admitted to Chimborazo Hospital in Richmond for chronic diarrhea but returned to the regiment in time for the Gettysburg campaign. Dickerson remained with the 38th through the remaining two years of war and surrendered with the Army of Northern Virginia at Appomattox Court House on April 9th, 1865.
After returning home, he married Lucy W. Smith. Active in veterans affairs, Dickerson joined the Clement A. Evans Camp 665 of the United Confederate Veterans and helped veterans and their widows secure state pensions. In 1912, was awarded the Southern Cross of Honor by Agnes Lee Chapter 434 of the United Daughters of the Confederacy. Sgt Dickerson wrote a short history of the 38th Ga. Regt, titled 38th GA SKETCH OF CAMPAIGN OF 1864, TO SURRENDER that was included by Lillian Henderson in the Georgia Roster of Confederate Soldiers, which was published during the 1950s.
William Dickerson died June 30th, 1926 at age 86, the Clement A. Evans Camp passed the following resolution:
Whereas, in the death of Mr. W. F. A. Dickerson, a beloved veteran and member of this camp, the camp has sustained a great loss; Wherefore, be it Resolved, That we express our gratitude for all that his life meant to us in the kindness of his spirit, his good judgement and his loyalty to duty. As comrades and friends in memory we will linger long upon the years he spent with us so full of inspiration and sympathy; therefore, be it Resolved, That we express our sorrow in his passing and request that a copy of these resolutions be spread upon the minutes.
Resolution committee:
Mrs. Roy G. Jones
s. Ed. Terrell
In 1999, The Confederate Memorial Camp 1432 sponsored the placement of a Veteran's Administration headstone to mark W. F. A. Dickerson's grave.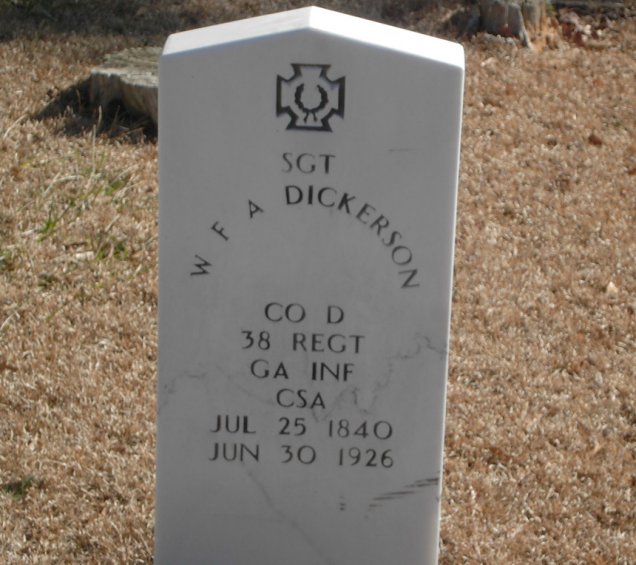 Below is obituary of Mrs. Lucy Dickerson, wife of William F. A. Dickerson.
-------------------------------------------------------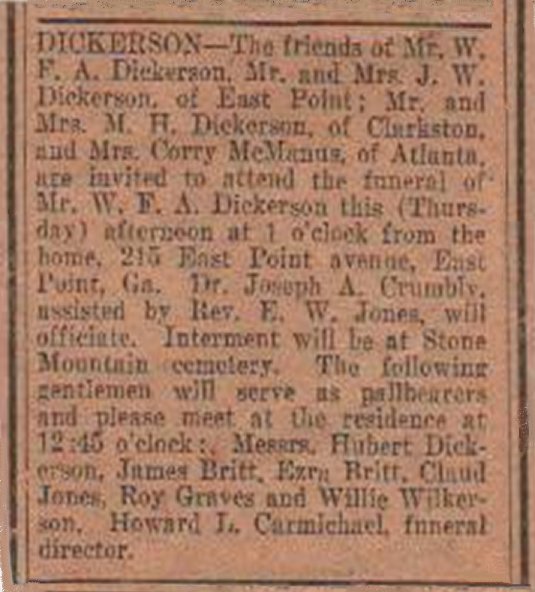 Dickerson-- The friends of Mr. W.F.A. Dickerson, Mr. and Mrs. J. W. Dickerson, of East Point; Mr. and Mrs. M. H. Dickerson, of Clarkston. Mrs. Corry McManus, of Atlanta are invited to attend the funeral of Mr. W. F. A. Dickerson this (Thursday) afternoon at 1 o'clock from the home, 215 East Point avenue. East Point, GA. Dr. Joseph A. Crumbly assisted by Rev E. W. Jones will officiate. Interment will
be at the Stone Mountain cemetery. The following gentlemen will serve as pallbearers And please meet at the residence at 12:45 o'clock : Messrs Hurbert Dickerson, James Britt, Erin Britt, Claud Jones, Roy Graves and Willie Wilkerson. Howard L. Carmichael funeral director.
Note: spelling of pallbears names may be incorrect.
-------------------------------------------------------
A GOOD WOMAN GONE
It once more becomes out painful duty to chronicle the death
of a noble Christian lady, Mrs. Lucy W. Dickerson, who departed this life on January 20, 1911 at the family residence, near Stone Mountain, GA in her sixty ninth year.
She was the daughter of John Smith a wealthy planter, of Laurens county, South Carolina, was married to W.T. Irby in 1860, who died from wounds received at the battle of Murfreesboro, Tenn. Two children blesses her union with Mr. Irby -- Mr. J.H. Irby, of Dekalb county, and Mrs. Corrie McManus of Atlanta, GA.
In 1869 she was married to W.F.A. Dickerson of Stone Mountain, who survives her. Three children by the last marriage: J.W. Dickerson of Atlanta: M.H. Dickerson of Decatur, and Bulah Britt of Dekalb county and one brother, Mr. C.L. Smith, of Abbeville, S.C. also eleven grandchildren.
Mrs. Dickerson gave abundant evidence of her of her acceptance of God. And joined her friends in singing the sweet song of Zion a few days before her death. She was a devoted wife, a loving mother and kind neighbor and a consecrated Christian of the Methodist order.
The funeral service were held at the residence on the 21st inst. Tributes of respect were paid by Rev Cantrell of St . Mountain; Rev J.B. Spivey and Rev. Virgil Britt.
The Interment was at Stone Mountain cemetery. May the God of love comfort the hearts of the family in their hour of sore bereavement.
W.T. Lankford.
-------------------------------------------------------
Photos and obituaries of Mrs. Lucy Dickerson are Courtesy of Mr. Mike Dickerson, descendant of William Dickerson.