Have a photo of this soldier you'd like to share? Have a bio or obituary of your ancestor? If you send it to me at dnichols28@verizon.net I'll post it on this website.
---------------------------------------------------------------
James C. Harris
Sergeant, Company D, 38th Regiment Georgia Volunteer Infantry
Born April 6, 1843 in Georgia. On March 1, 1862, Harris enrolled at Camp Bartow near Savannah as a private in the "Murphey Guards," receiving a $50 enlistment bounty. The following month, he was transferred to the "McCullough Rifles." Harris was wounded at the battle of Second Manassas on August 28, 1862, but remained with his unit. On December 1st, 1863, he was promoted to Sergeant. Harris was captured on September 19, 1864 at the third battle of Winchester and sent to Point Lookout military prison in Maryland. He was released nine months later on June 28, 1865, over two months after his unit surrendered at Appomattox.
After the war, Harris resided in DeKalb County with his wife Nancy Carter Harris where he worked as a teamster and laborer. James Harris died November 19, 1899. In 1917, he was posthumously awarded the Southern Cross of Honor by Atlanta Chapter 18 of the United Daughters of the
Confederacy.
Source:
Confederate Veterans of Stone Mountain
By Chris Davis
A Project of The Confederate Memorial Camp 1432, 2000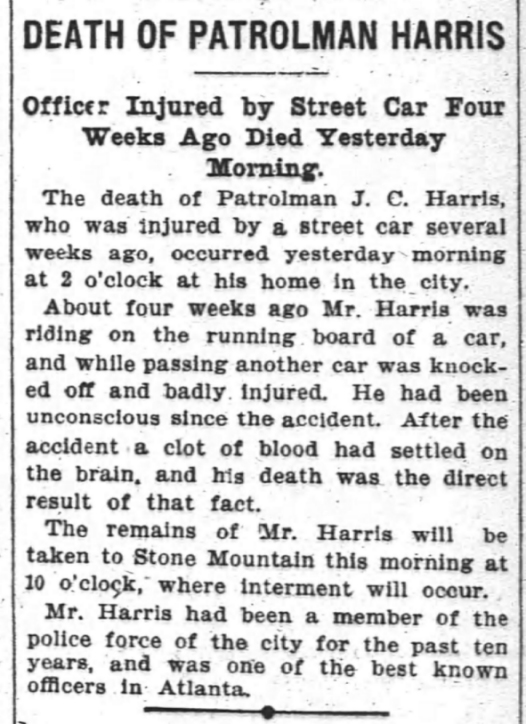 Find A Grave Link:
https://www.findagrave.com/memorial/9723078/james-c-harris