Do you have a photo of this soldier? Do you have a bio or obituary of your ancestor? If you send it to me at dnichols16@cox.net I'll post it here.
-------------------------------------------------------------
Thornton, John C.- Capt. 10/15/1861. Wounded at Fredericksburg, Va. 12/13/1862. Resigned February 11, 1863, due to ill health. Elected Capt. of Co. D, 1st Regiment Ga. Reserve Inf. (Fannin's,) April 29, 1864. Died of typhoid fever in Savannah, Ga. hospital 10/19/1864. Surgeons certificate, created when he applied to resign in Feb 1863, stated he was unfit for service since the battle of Gaines Mill, June 27th, 1862 and was likely to be unfit for months to come. Was born in Georgia about 1833, married Georgia Ann Hickman (1843-1908), in 1857, and had two small children by 1860. He lived in Hart County, Georgia, was a was a farmer and merchant, had personal/real property valued at about $14,000, the main source of the "property" being six slaves. He was replaced by J. O. Jackson as the company commander upon his resignation.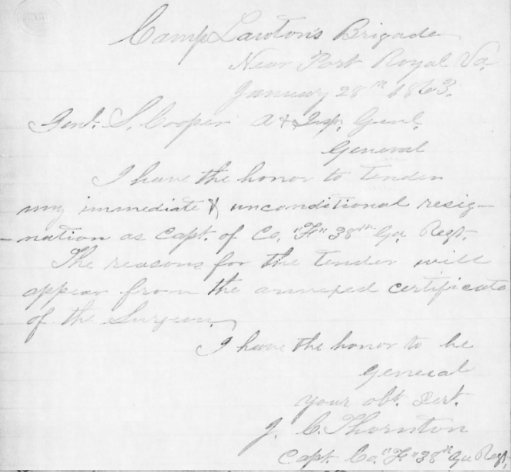 Source: 1860 US Census records for Hart County, GA, Roll: M653_126; Page: 392, family # 38. Source: 1860 U.S. Federal Census - Slave Schedules, Hart County, GA. CSA service records