Do you have a photo or portrait of one of these Powell soldiers? If so, please email me at dnichols28@verizon.net.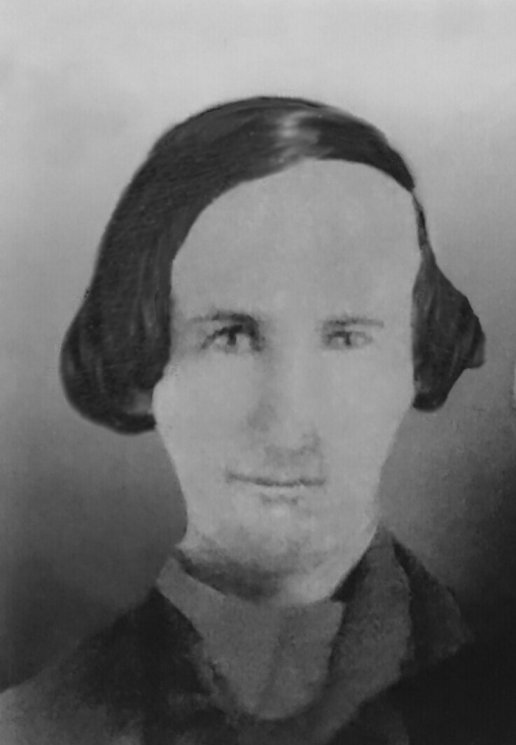 Private Wiley Powell - circa 1855
--------------------------
Wiley Powell was born in September, 1819 in Elbert County, Ga. He was the son of Sara Franklin and William Riddle Powell. He enlisted in the 1st Regiment of Georgia Militia, Captain Bowman's Company, during the Cherokee War in 1838. He was mustered out with a honorable discharge on June 22th, 1838.
Wiley married Mariah Adkins on December 15, 1838, in South Carolina.
Wiley's two oldest sons, William Joseph and James Lewis Powell enlisted at Haley's Store on October 15th, 1861, in Company F, Thornton's Line Volunteers. James Lewis Powell was wounded during the Seven Days battles around Richmond, either Gaines Mill or Savage Station, the record is not clear. He was sent home to Elbert County.
Wiley joined his son Joseph the month following James Lewis's wounding. He enlisted in Company F on July 29th, 1862. Wiley was wounded at the battle of 2nd Manassas, August 28th, 1862. He probably accompanied the 38th Ga. Into Pennsylvania, during June of 1863. He may have even been beside his son Joseph, when he was killed in battle of Gettysburg, during the 38th Georgia's first day action on July 1st, 1863, assaulting Barlow's Knoll and then pushing into the town of Gettysburg. William was buried on the battlefield and his grave was marked with a wooden headboard. His grave marker was still clearly legible during April 1866, as his marked grave was reported in a Georgia newspaper. At some point, probably in the 1870's, his remains were identified, exhumed, and transported to Savannah, Georgia, where he was buried at there at Laurel Grove Cemetery. His grave is marked Corp. William J. Powell, CO F, 38 GA INF CSA.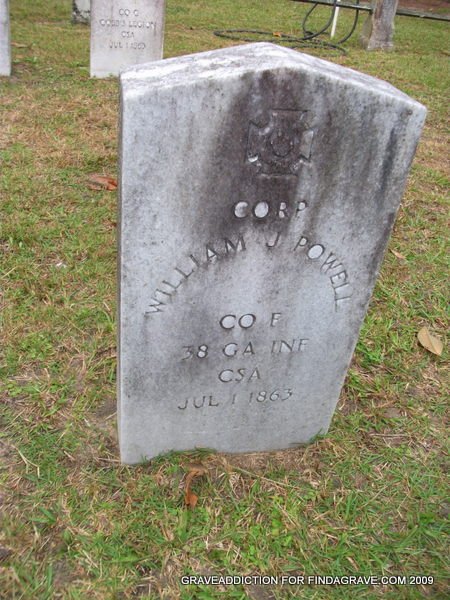 Article Mentioning the Grave of Joseph Powell
Just a few months after William was killed, James Lewis Powell died at home on Oct. 9, 1863, from the effects of sickness and his lingering wounds sustained in the battle of Gaines Mill. He is buried at Rock Branch Baptist Church Cemetery, in the Gaines District of Elbert County.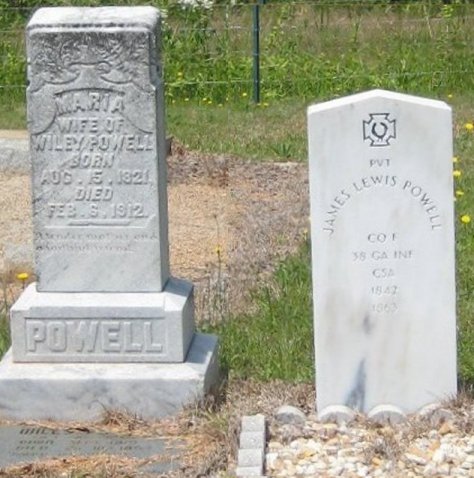 Just over three months later, Wiley Powell died of tuberculosis in General Hospital #3, at Lynchburg, Va. 1/24/1864. He is buried there in Confederate Cemetery. No. 7, 3d Line, Lot 200 - Ferguson's.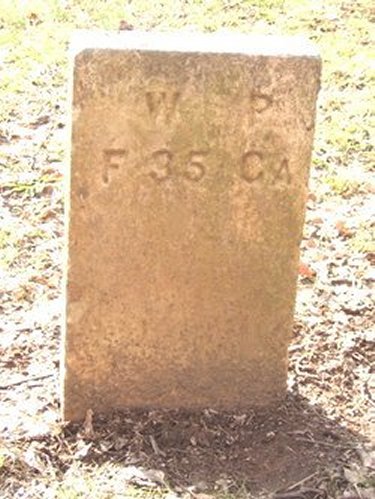 Grave of Wiley Powell
In the short span of seven months, Mrs. Mariah Powell lost her husband and two beloved sons to the cruel hand of war. For Wiley, William Joseph, and James Lewis Powell, their battles were over, but Mariah's battles were just beginning in raising eight children alone in rural Georgia. She lived another 47 years after the war ended and died on February 5th, 1912 , in Elbert County Georgia. She is buried at Rock Branch Baptist Church Cemetery in Elbert County, beside her son James Lewis Powell. A tribute stone to Wiley Powell is set just below Mariah's headstone and is visible in the photo above.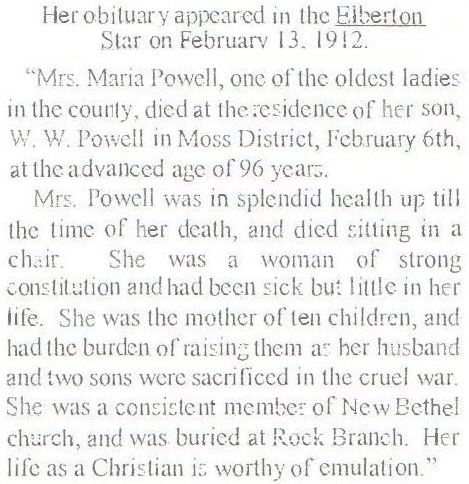 Biographies and photos by webmaster, descendent of Wiley Powell.