Three McDaniel brothers served in Company L, also known as the Chestatee Artillery. Their parents were Rebecca Walker and Ira Oliver McDaniel (1807-1887.) Their father, Ira McDaniel, was a prominent merchant in Atlanta and ran for Mayor of Atlanta in 1855 on the Know-Nothing Party ticket, which he lost.
The year 1860 found Ira Oliver McDaniel Sr., living in the city of Atlanta, along with his wife Rebecca, and three sons. Two sons, Ira O. McDaniel Jr., and his brother Phillip S. McDaniel, were both serving in Company L by April 1862. Brother Egbert McDaniel joined his two older brothers in April 1864, when he came of age to serve.
The Chestatee Artillery mustered in on September 30, 1861, by order of War Dept. and was ordered by Wright's Legion to report to Camp Kirkpatrick, Dawson County, Ga. It was mustered into Confederate State service as a Light Artillery Company October 9, 1861. It was originally designated Co. H, and was also known as New Co. N. The Chestatee Artillery under Capt Bomar served for some time near Charleston, S.C., taking a prominent part in the defense of Battery Bee and Morris Island. On May 5, 1864, the company was ordered to re-join the 38th Georgia Infantry Regiment serving in the Army of Northern Virginia, where it did good service to the end.
The three McDaniel brothers:
Ira O. McDaniel - Pvt. 5/10/1862. Detailed in Commissary Dept. at Savannah, Ga. in 1862. Elected Jr. 2d Lt. February 20, 1864; 1st Lt. 6/1/1864. Captured at Frederick, Md. October 26, 1864. Exchanged October 31, 1864. Received at Venus Point, Savannah River, Ga., November 15, 1864. No later record. (Buried in Oakland Cemetery at Atlanta, Ga.) Born in Ga. Nov 1840, living in Bartow Co. Ga. in 1900. Died in Jan 1907.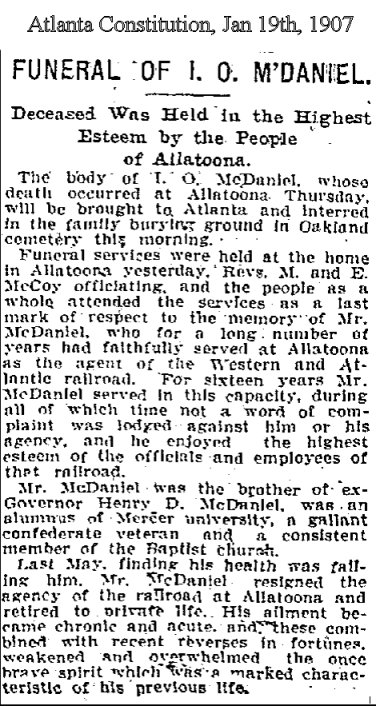 2. McDaniel, Phillip S. (Phillip Sanders McDaniel) - Pvt. November 21, 1861. Appointed 2d Sgt. in 1863. Killed at Monocacy, Md. 7/9/1864. Born in Ga. about 1843.
3. McDaniel, E. B. (Egbert Baldwin McDaniel) Pvt. April 30, 1864. Captured at Cold Harbor, Va. June 3, 1864. Paroled at Elmira, N. Y. and sent to James River, Va. for exchange March 14, 1865. Received at Boulware & Cox's Wharves, James River, Va. March 18-21, 1865. (Buried in Oakland Cemetery at Atlanta, Ga.) Born in Ga. about 1847, living with parents, Rebecca and Ira O. McDaniel. This family was living in Atlanta in 1860, two brothers, Ira & Phillip McDaniel shown below, also lived at home in 1860. Born in Ga. 3 May 1847, died 30 July 1894.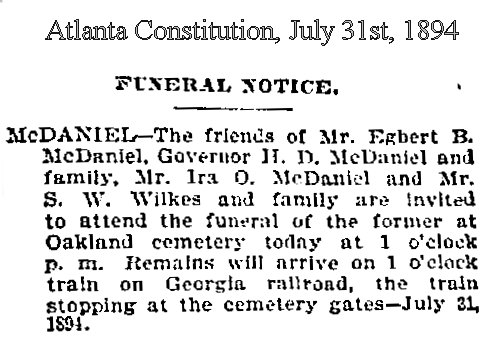 The oldest son of Ira McDaniel was Henry Dickerson McDaniel, who did not serve in the 38th Ga. He graduated from Mercer University in 1856 and went on to become a lawyer. Henry served in the 11th Ga. during the war and was elected as the 52nd Governor of Georgia in 1883 and served through 1886. Henry died in 1926. Henry McDaniel's obituary is provided here for informational purposes, since it provides in-depth detail on the family history of these brothers.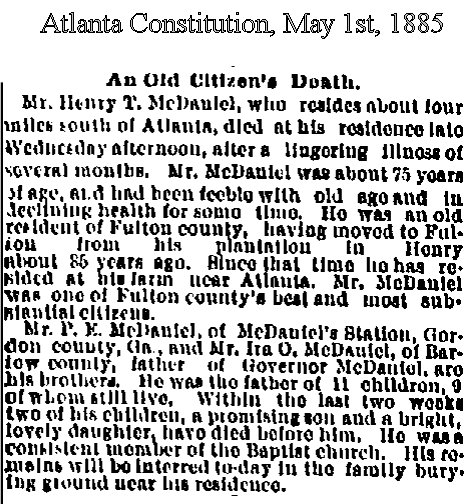 Obituary of Henry McDaniel, brother of Ira O. McDaniel Sr.