Have a photo of this soldier you'd like to share? Have a bio or obituary of your ancestor? If you send it to me at dnichols28@verizon.net I'll post it on this website.
---------------------------------------------------------------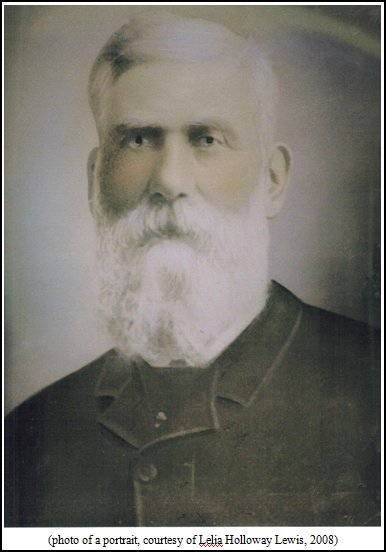 Dr. Robert Green Holloway Jr., was born to Robert Green Holloway and Joanna (Royston) Holloway November 11, 1832 at the Holloway's Moss Neck estate, Spring Garden, Vriginia.
Dr. Holloway was educated, as a young man, at Rappahannock Academy and Military Institute, one mile distant from Spring Garden. In 1854-1856 Robert studied medicine at the University of Virginia and the University of Pennsylvania where he graduated with a MD in 1856. His thesis was entitled: Enteric Fever. At the time, Penn was considered to be one of the premier schools of medicine in the United States. Many emerging medical schools, including the University of Virginia, were patterned after the medical program at the University of Pennsylvania. After graduation from the university, Dr. Holloway returned to his home state of Virginia. Upon his arrival at Spring Garden in 1856, he started his practice of medicine.
In 1861, when the War For Southern Independence began; the men of Caroline County and all Northern Virginia were anxious to protect their homes, families, and their State from the coming invasion of troops from the North. Dr. Holloway joined the medical service of the Confederate States Army and was made Examining Surgeon for Caroline County. In 1862, Dr. Holloway left Caroline County. Except for brief visits, he did not return for two years.
Between July, 1861, and January of 1862, the number of hospitals in Richmond doubled. Medical professionals were sought throughout Virginia and the other states in the Confederacy. In January of 1862, Dr. Robert G. Holloway was called to Richmond where he became an Acting Assistant Surgeon and on the staff at Keen Hospital, GH #6. This hospital was located on the north side Main Street near its intersection with Governor, between 13th and 14th Streets.
On January 10, 1863, Dr. Robert Holloway was promoted from Acting Assistant Surgeon, a civilian contract position, to Captain and Assistant Surgeon, PACS. This promotion was made retroactive to January of 1862. He was also transferred from Richmond's General Hospital #6 to White Sulfur Springs. While serving in this new assignment, Dr. Holloway was under the command of J. Lewis Woodville, Surgeon-in-Charge.
On November 20, 1863, Dr. Holloway was ordered to report to Chattanooga , TN to be assigned to duty with the Army of Tennessee. By the fall of 1863, as Confederate casualties began to rise in the West, few trained medical doctors were available. Dr. Holloway's transfer to the Army of Tennessee reflects this shortage.
Dr. Holloway was not able to leave for Chattanooga until January 6, 1864. He had to travel on horseback from Spring Garden, in Northern VA and did not arrive until January 13, 1864. Upon arrival near Dalton, GA he was attached to the 30th Alabama Infantry with the continuing rank of Captain. He was assigned as an Assistant Surgeon. Dr. Holloway remained with the Alabama troops through the bloody battles against Gen. Sherman for Atlanta and the retreat afterward. He remained with the 30th Alabama Inf. until it departed from GA to march to Nashville on Oct. 5, 1864. On that same day, Dr. Holloway was transferred back to the Army of Northern Virginia and into the 38th GA as an Assistant Surgeon. He remained in the 38th until the end. He was promoted to Major/Surgeon on April 1, 1865 was paroled in Bowling Green, Caroline Co., Va in May 1865.
Dr. Robert inherited Spring Garden upon his mother's death in 1872. He and his family lived here until 1879 when the doctor sold his birthplace and moved his family to Ridgeway near Lent, VA, not far from Spring Garden. Ridgeway was originally know as Locust Grove. Upon purchasing the estate after the death of Richard Collawn, father-in-Law of his late sister, Susan Holloway Collawn, Dr. Holloway changed it's name to Ridgeway.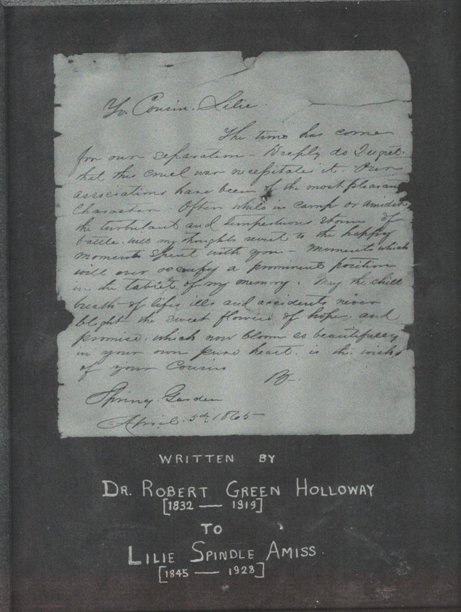 The letter in the above photo was written by Dr. Holloway on April 5th, 1865, just four days before Gen. Lee surrendered at Appomattox Court House. The letter was to his fiance, who was also his cousin. Below is the text of letter appearing above.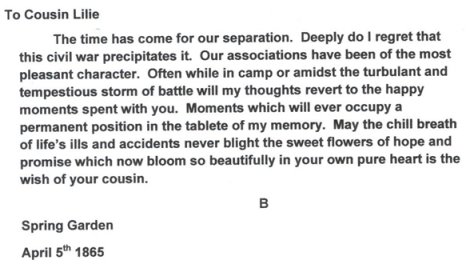 Dr. Holloway lived at Ridgeway and practiced medicine there until his death in 1919. Both Ridgeway and Spring Garden are now gone and the land is part of US Army Fort AP Hill.
Photos and Bio courtesy of Dr. Robert Massey