Have a bio, photo, or obituary of your ancestor who served in the 38th Ga? If you send it, I'll post it here. Please email me at dnichols16@cox.net.
-----------------------------------------------------------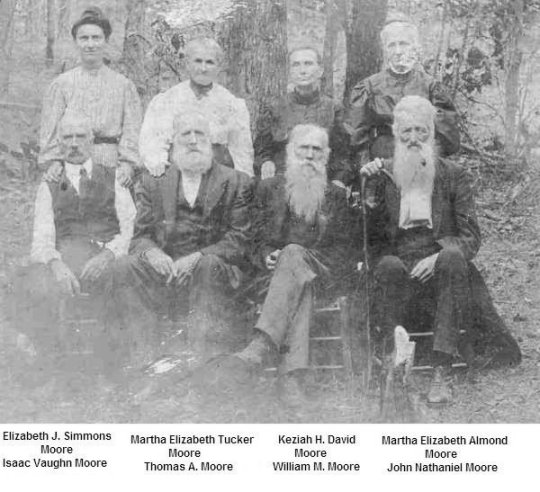 THE MOORE BROTHERS OF NORTHEAST GEORGIA
When The War Between the State erupted in 1861 and the Confederate States called for volunteers, the three sons of John Nathaniel Moore and Martha Elizabeth Vaughn of Elbert County Georgia answered the call. William M. and Thomas A. the oldest and youngest of the Moore boys enlisted October 15, 1861 in the Elbert County raised Goshen Blues, Company H of what became the 38th Regiment Georgia Volunteer Infantry. They were joined in this Company by their mother's younger brothers: Jacob David and Alexander.as well as Isaiah H. Vaughn who was either a cousin or younger brother (relationship uncertain but a member of their household in the 1850 census). The middle son Isaac Vaughn Moore had married and moved to adjoining Madison County. These families both had come to Northeast Georgia from Virginia where several of their ancestors had served the colonies in the American Revolution. As in the case of many volunteer companies raised in the Southern States these county raised companies contained many brothers, cousins, nephews, uncles, a few fathers and sons and many more related by marriage. Their father's brother Joel Washington Moore also volunteered later in the war and despite his advanced age, he and his young son William served in the Georgia State Troops, Joel as a cook with Company A 1st Regiment State Troops and William with Co F in the Georgia Cavalry Reserves.
The Moore brothers, all farmers, had married and begun families prior to the war. William had married Keziah H. David of Madison County and had two children, Isaac and his wife Elizabeth J. Simmons also of Madison County were the parents of three children by 1860 and the youngest Thomas had married Martha E. "Betsy" Tucker and was the father of four children by 1860.
In May 1862, the 38th along with the five other regiments (mustering a total of 6,000-7,000 men), were placed under the command of Brig. Gen. Alexander Lawton, who as commander of the Georgia Military District, had proposed formation of an "elite brigade" of Georgia troops to answer Richmond's call for troops to repel the threat posed by McClellan's advance from Williamsburg on the Confederate capital. They were moved by train to Lynchburg and the Shenandoah Valley. They were to reinforce Stonewall Jackson as part of a deception planned by General Robert E. Lee to mask his planned offensive against McClellan's forces around Richmond. Jacob David Vaughn was not now with the others, having died in Savannah during the assignment of the 38th on coastal duty. The Lawton Brigade received its baptism of fire at the battle of Gaines Mill (June 27, 1862), suffering 492 killed and wounded out of approximately 3,500 soldiers carried into battle. On July 1st John Henry Vaughn died in Charlottesville. It is not known if he died from disease or from wounds he might have received at Gaines Mill.
On May 9, 1862 Isaac Vaughn Moore, joined his brothers in the Confederate army by enlisting in Co E of the 37th Georgia Volunteer Infantry. Isaac began a journal or diary of his experiences the day he enlisted and recorded many interesting experiences during his three years of continuous service.
William, Thomas and their uncle Alexander served at 2nd Manassas and Antietam with Thomas being appointed 4th Corporal in October 1862. Thomas was wounded at Fredericksburg, Virginia, December 13, 1862 and hospitalized, he returned to service that spring.
In mid-spring 1863 William transferred from the 38th to Company F 15th Georgia Infantry, another unit formed in Elbert County and part of General Henry Benning's Brigade. Still together in the Army of Northern Virginia but now in different Corps, William, Thomas and Alexander fought at Gettysburg where Alexander and Thomas were wounded and captured July 5, 1863. Alexander died at Gettysburg on the 17th of July. The writer believes it is quite possible that Thomas stayed behind with his Uncle, as Thomas had served previously as a hospital Steward according to his muster documents. During the battle at Gettysburg, William's unit participated in the sucessful assault on Houck's Ridge and the now famous "Devil's Den" on July 2 and on July 3rd covered the withdrawal from that position, sustaining heavy casualties.
In the late summer of 1863, Benning's Brigade boarded trains and moved south with two Divisions of General James Longstreet's 1st Corps to reinforce the Army of Tennessee under Gen. Braxton Bragg. Here, William would have been reunited with Isaac, who had served in the campaigns in and around Cumberland Gap, Tazewell, Southeastern Tennessee and Murfreesboro except for the circumstances outlined below.
During the Battle of Chickamauga, the 15th was part of the assault by Benning's Brigade at the Viniard Farm on September 20th, while the 37th which was part of Bate's Brigade, Stewert's Division, was in heavy action in the late afternoon of Sept. 19, sustaining over 50% casualties including Issac Moore who was wounded but saved from more serious injury when the ball stuck his cap box. Although the two regiments were within a few hundred yards of each other, Isaac and William probably did not see each other due to Isaac's wounding. Isaac's diary makes no mention of them seeing each other.
After Chickamauga, the Confederate Army laid siege to Chattanooga. In early November, Longstreet's Corp moved north to attempt to drive Burnsides from Knoxville.
William's unit was engaged heavily in the fighting at Campbell's Station south of Knoxville but did not participate in the direct assault on Fort Sanders. After the failed attempt to drive Burnsides from Knoxville and the defeat of Bragg at Chattanooga, Longstreet moved north from Knoxville toward Virginia. On January 22, 1864 during this movement, William was detailed to a foraging party near Dandridge, Tennessee. Here he was captured and sent to Rock Island Prison, an island prison camp in the Mississippi River near Rock Island, Illinois. Resisting the offers of amnesty with enlistment in the U S Army's Western forces ( an offer four thousand Confederate Prisoners succumbed to ), William remained at Rock Island until he was transferred for exchange in March 1865. The war was over before he could be returned to duty.
In the meantime after a short stay at his home to recuperate, Isaac returned to his unit in late October and served in the remaining campaigns of the Army of Tennessee, Chattanooga through Nashville. After Nashville, the Army moved south under the new commander Joseph E. Johnston. In the next four months, the army marched across the south from Corinth, Mississippi to High Point, N.C. where in the Public Square on April 27th 1865 the Army of Tennessee surrendered and stacked arms.
The Last entry in Isaac V. Moore's diary was "May 15th 1865 Monday we reached home at 3 o'clock".
Thomas, in the meantime, was paroled at DeCamp General Hospital, David's Island, New York Harbor, September 1863 and received at City Point, Virginia September 16, 1863 for exchange, rejoining the 38th later that year. Thomas was appointed 3rd Corporal in 1864 and served with the Army of Northern Virginia through the bloody campaigns of 1864 and 1865 including "The Wilderness", Spotsylvania, Monocacy, Winchester, Fisher's Hill, Cedar Creek and Fort Steadman, surrendering at Appomattox, Virginia, April 9, 1865.
After the war the Moore brothers returned to farming in Northeast Georgia. They all lived to see the 20th Century with Isaac the last to die 12 days past his 88th birthday, November 29, 1918.
Submitted by Ron Jones ---- 2nd Great Grandson of William M. Moore.