Do you have a photo of this soldier? Do you have an obituary or additional information on this soldier?
Or, can you tell the story of your ancestor who served in 38th Ga.? If you send your ancestor's story, I'll post it here. Please email me at dnichols16@cox.net.
------------------------------------------------------------
Charles T. Hardman, Charles T. (or Hardeman) - Pvt. 5/6/1862. Wounded in right leg in Virginia in 1864. Sent to Staunton, Va. hospital October 13, 1864. Surrendered at Appomattox, Va. 4/9/1865. (Born in Oglethorpe, Ga. May 9, 1835.)
Applied for CSA pension in Oglethorpe Co., Ga. in Sep/1903. Stated he was wounded in the right leg below the knee and in the hip by a piece of exploding shell. Pvt.'s Willis B. and F. M. Landrum of same company signed affidavits attesting to his service.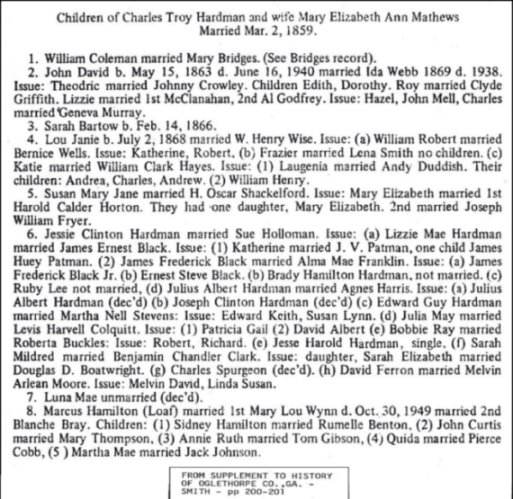 Obituary
Oglethorpe Echo Newspaper
Friday, June 13th, 1924
Mr. C. T. Hardman (Uncle Charlie as everyone knew him) among the oldest citizens of the county and one of the fast vanishing ranks of Confederate veterans, passed away at the home of his son, Mr. W. C. Hardman, near Crawford, yesterday morning. He had been quite feeble for several years but had been able to attend the Memorial Day exercises here in May. He as in his 88th year of and had lived all his life in the county. He was one of the best citizens the county ever had, one of that old school ruggedness and scrupulous honor and integrity. He served his Southland for the full four years of the war. He is survived by a number of sons and daughters who mourn the loss of a good father. After the funeral services at ten o'clock this morning his remains were laid to rest in the family burying ground at his old home in Grove Creek District.