Do you have a photo of this soldier? Do you have an obituary or additional information on this soldier?
Or, can you tell the story of your ancestor who served in 38th Ga.? If you send your ancestor's story, I'll post it here. Please email me at dnichols16@cox.net.
------------------------------------------------------------
Private James William Raiden - Pvt. 5/2/1862. Appointed courier for A.Q.M. in 1863. Captured at Wilderness, Va. 5/6/1864. Released at Elmira, N.Y. June 23, 1865.
Born abt 1830 in Oglethorpe County, GA. He is listed in the 1850, 1860, 1870, and 1880 census in Oglethorpe County, GA.
He married Martha Caroline Campbell on October 21st, 1858 in Oglethorpe County, GA. They had eight children:
1. William Raiden
2. James H. Raiden
3. Rosa Raiden
4. Lizzie Raiden
5. George Bascom Raiden
6. Annie T. Raiden
7. Martha Belle Raiden
8. Ella Myrtle Raiden
James W. Raiden died in Oconee County, GA on December 24th, 1894 and is buried in the Watkinsville City Cemetery, Watkinsville, Oconee Co., Georgia.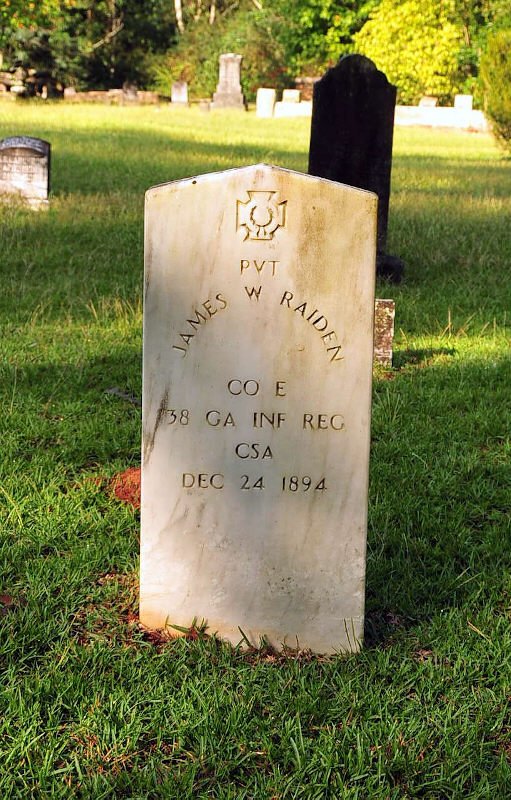 Photo by Ed Sayer, extracted from findagrave.com
Biographical information courtesy of Mr. Dan Woodruff, family member of descendant of James W. Raiden.