Have a bio of your ancestor? If you send it, I'll post it here. Please email me at dnichols16@cox.net.
-----------------------------------------------------------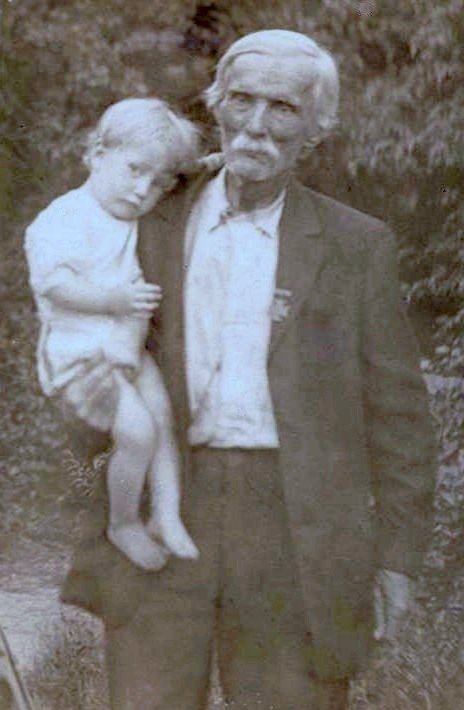 Post war photo of Lewis Brown with his grandson Henry Lewis "Buddy" Murphy, note Southern Cross of Honor on his coat.
Lewis Brown was baptized at Tanners Baptist Church, Clayton County, Georgia, the first Sunday in October, 1870, by Elder William Thames
IN MEMORY OF OUR DEPARTED BROTHER
Lewis A. Brown
Born Nov. 29, 1838 at Constitution, DeKalb County. Died April 15, 1926 at College Park, GA.
He joined the Church and was baptized October 1, 1870 at Tanner's (Baptist) Church in Clayton County - about one year later he and a few others organized Antioch Church near Atlanta, Federal Prison; he was made Clerk of this church; remained clerk until 1903 when he moved to College Park. He was ordained Deacon August 5, 1894 in Antioch Church which he served long and faithfully.
He was a soldier in the Confederate Army, being a member of Co. K - 38, Georgia Regiment. At this time there are only four survivors of this Company and three were in attendance at the funeral of Brother Brown.
May we mention here a few of the personal doings of our Brother, showing something of his thoughtfulness. Back in the years about 1871 or 1872, he hauled the brick and made a pool for his Church (Antioch). The pool is there after all these years. In our country churches we formerly had service on Saturday as well as Sunday and he would relieve the hands on the farm, both black and white, that they might go to Church; also there was a neighbor who desired to become a Minister and wished to attend Mercer University for preparation; he placed the family in one of his tenant dwellings rent free and made it possible for this good man to become a Minister of the Gospel.
He leaves five daughters - Mrs. Daisy Brown Dease; Mrs. H. L. Murphy; Mrs. Dr. W. J. Creel; Miss Eunice Lee Brown and Mrs. Ruth Brown, his son's widow. Twelve grandchildren and three great-grandchildren to mourn his loss.
He was a good man and the good that a man does lives after him.
RESOLVED:
1st - That the Committee named convey to the loved ones such expressions of sympathy and love in the name of our Church as truly represent us.
2nd - That we believe no more fitting memorial could be erected to this good man than the loyal devotion and love so beautifully portrayed for years by his children and that resignation and fortitude and Christian lives of his children are an added tribute to the fidelity to God's service so consistently exhibited by this good man. Gladly does the College Park First Baptist Church bear this testimony to the life of our departed brother.
By order the Church in conference May 2, 1926.
A copy of these resolutions will be furnished the bereaved family and likewise spread on the minutes of our Church.
Approved in conference on this the 13th day of June 1926.
By the Committee
Photos and obituary courtesy of Mrs. Elaine Ratliff, descendant of Private Lewis Brown.