Do you have a photo of one of these soldiers? Do you have a bio or obituary of your ancestor? If you send it to me at dnichols16@cox.net I'll post it here.
-------------------------------------------------------------
Six of the sons of Harriet and James Elbert Carruth served in the Company H, 38th Regt. Georgia Volunteer Infantry, Elbert County, Goshen Blues. Two of these boys died from wounds received, one was captured and later released, and three surrendered at Appomattox Court House and returned to Elbert County.
1. Carruth, B. O. - (Benjamin C. Carrouth) Pvt. September 10, 1862. Died at Richmond, Va. November 15, 1862. Born about 1834. All six Carruth's in Co H were brothers.
2. Carruth, F. A. - (Francis Asbury Carrouth) Pvt. 9/10/1862. Captured at Spotsylvania, Va. 5/12/1864. Paroled at Elmira, N. Y. and sent to James River, Va. for exchange March 10, 1865. (Born in Franklin County, Ga. in 1839. Died in Madison County, Ga. in 1904.) Filed a Ga. CSA pension application in Madison Co., Ga. in 1901. Stated he was at home on parole during the surrendered at Appomattox, Va. 4/9/1865, listed occupation after war as farmer. Pvt. Jeptha I. Parham signed an affidavit attesting to his service and capture, and said he was captured with him and both carried to Fort Delware and then Elmira, NY prison. Married Eliza Bond Andrews 10/17/1867 in Elbert Co., Ga.
3. Carruth, G. A. - (Gideon A. Carrouth) Pvt. 10/15/1861. Surrendered at Appomattox, Va. 4/9/1865. Filed CSA pension application in Cherokee Co., Ga., in 1902. Born 7/4/1838 in Madison Co., Ga., listed occupation in 1865 as shoe maker and later occupation as a farmer. Pvt. J. E. Campbell signed an application supporting his pension as a witness to his service and surrender at Appomattox. Married Sarah E. Booth in Elbert Co., Ga, 3/10/1868.
4. Carruth, J. A. - (Joseph Adam Carrouth) Pvt. 10/15/1861. Surrendered at Appomattox, Va. 4/9/1865. Born about 1836. Son of James Elbert Carruth and Harriet Nance Andrew married Susan Power 1865.
5. Carruth, J. E. (James Elbert Carrouth) - Pvt. 2/1/1864. Surrendered at Appomattox, Va. 4/9/1865. James married Martha Ridgeway 1/28/1864 in Elbert Co., Ga. Buried at Fork Cemetery, Madison Co., Ga. Tombstone reads: born 4/15/1846, died 10/30/1923, CO H 38 GA INF, CSA. Martha died 7/5/1926 and is buried beside him.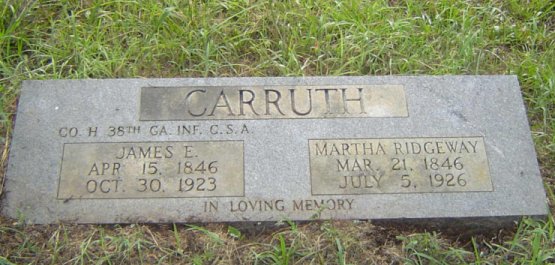 6. Carruth, Thomas Sanford (Carrouth) - Pvt. 3/1/1862. Wounded in Seven Days' Fight near Richmond, Va. June 1862. Died of wounds in Elbert County, Ga. August 7, 1862. Born in Ga. about 1842, living with mother, Mrs. H. Corrouth, and brothers, B. O., Francis. A., and James E. in Elbert Co., Ga., in 1860.
From the 1860 Census forward, this group's name is spelled as Carrouth. Robert Asbury Carrouth (b. 1848, my 2nd g. grandfather) was the youngest of the seven boys and his service record has not been found at this time. He married Amanda C. Sanders. Amanda's parents were Amanda Elizabeth Andrew and James M. Sanders. If anyone ever runs across a service record for Robert A. Carrouth (or Carruth, Caruth), please let me know. He may have been too young to serve at the time the war ended.
Information courtesy of Mr. Harvey Carrouth, descendent.