Do you have a photo of this soldier? Do you have an obituary or additional information on this soldier?
Or, can you tell the story of your ancestor who served in 38th Ga.? If you send your ancestor's story, I'll post it here. Please email me at dnichols16@cox.net.
------------------------------------------------------------
George L. Peterman was born in South Carolina about 1835. He married Rebecca J. (maiden name unknown) prior to 1855. They had three children in 1860, as shown below in the Wilkes County, Georgia Census.
1860 Federal Census
Name: G F Peterman
Age in 1860: 25
Birth Year: abt 1835
Birthplace: South Carolina
Home in 1860: Wilkes, Georgia
Post Office: Washington
Occupation: Farm Laborer
Household Members:
Name Age
G F Peterman 25
Rebecca J Peterman 20
George G Peterman 5
Robert H Peterman 3
Thomas H Peterman 8/12
George enlisted in Company E, of the 38th Georgia Regiment, on April 28th, 1862, at Lexington, Oglethorpe County, Georgia. He fell ill with typhoid fever during March of 1863, while the regiment was in Virginia. He was sent to Chimborazo Hospital #2, at Richmond, Virginia. He died there on March 19th, 1863.
George is buried at Oakwood Cemetery, Richmond, Va. His grave is marked and reads GEORGE L. PETERMAN, PVT, CO. E, 38TH GA., 1835-1863, and has Christian cross on marker. He is buried in Division B, Row L, Grave # 51.
George Peterman is the only member of the 38th Ga. buried at Oakwood Cemetery who has a personalized grave marker. Another 20 members of the regiment are buried at Oakwood, but their graves are only marked by small stones with numbers that correspond to their names listed in a book located in the cemetery office.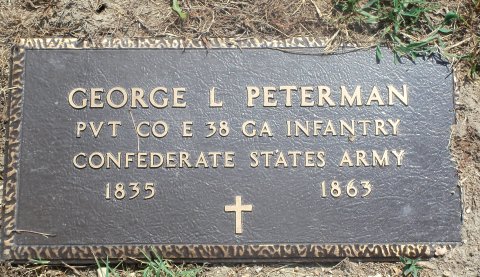 His widow, Rebecca J. Peterman filed a claim for unpaid pay, on Sept 17th, 1863, in Oglethorpe Co., Ga.