Do you have a photo of this soldier? Do you have a bio or obituary of your ancestor? If you send it to me at dnichols16@cox.net I'll post it here.
-------------------------------------------------------------
Benjamin H. Hickman was born in Georgia about 1833. He was married to Almantha maiden name unknown)Hickman.
He enlisted Dec. 14th, 1861 at Capt Bartow, Savannah, Ga, by Capt John C. Thornton. He was wounded by a gunshot and captured during the battle of Fredericksburg, Va, on Dec 13th, 1862. He was transported to Washington D.C. and entered into Douglas Hospital on Christmas Day, 1862.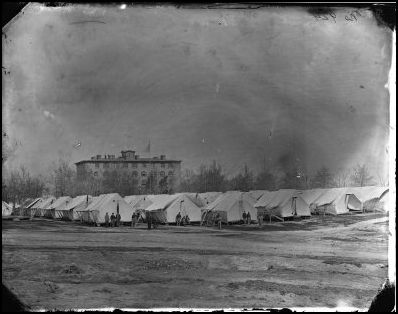 Douglas Hospital, Washington, D.C. 1864, tents are for overflow patients from the main hospital.
He died on his wounds on Feb. 8th, 1863 and was buried at
a local cemetery that later became Arlington National Cemetery. He is the only member of the 38th Georgia buried at Arlington. His grave marker reads B.H. Hickman, GA., CSA.