Do you have a photo of this soldier? Do you have an obituary? Additional information on this soldier? Can you tell the story of your ancestor who served in 38th Ga.? If you send it, I'll post it here. Please email me at dnichols16@cox.net.
------------------------------------------------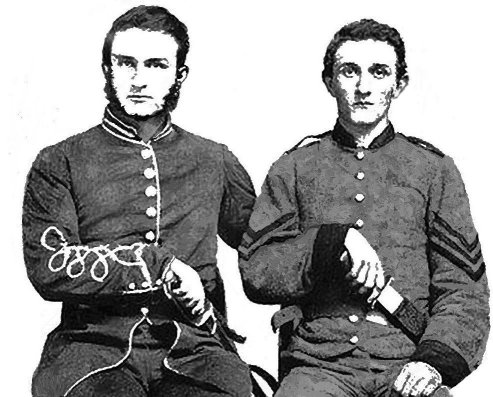 Sketch based on photo from book, "This They Remembered"
Captain Charles Hawkins, left, Sgt John Hawkins, right
Charles and John Hawkins were two brothers from Oglethorpe County Georgia. Both served in the 38th Georgia Regiment, Company E, The Tom Cobb Infantry.
Hawkins, Charles Alexander - 2d Lieutenant 9/29/1861 , Elected Captain July 23, 1862 . Killed at Winchester, Va. June 13, 1863 .
Captain Charles Hawkins was a brave officer, highly respected, and beloved by the men of the regiment. Several historical accounts mention his death and lament the loss of such a noble leader
The CSA service records for Captain Charles Hawkins contains 40 index cards:
…card 14 says:
"elected 2nd Lt Sep 29 1861"
…card 16 says:
"promoted to vacancy Jul 15 1862"
…card 10 says
"killed at Winchester June 13 1863"
…card 12 says:
"he behaved gallantly at Fredericksburg 13 Dec 1862"
…card 20 says:
"wounded Manassas Aug 28 1862"
…card 21 says:
"wounded Sharpsburg Sep 17 1862"
…card 23 says:
"list of casualties Fredericksburg Dec 13 1862"
Hawkins, John M. - (John Milner Hawkins) 2d Sgt. 9/29/1861. Detailed Sub Enrolling Officer in Georgia in 1863. Surrendered at Appomattox, Va. 4/9/1865. Reported as wounded in the battle of Gaines Mill, 6/27/1862. TTR page 79. Reported slightly wounded in side at Cedar Creek, Augusta Chronicle, dated Nov 4th, 1864. Brother of Capt. Charles Hawkins.
…Sgt John Milner Hawkins record contains (39 cards/pages) says:
…enlisted Sep 29 1861
…2nd Sgt Oct 1862
…sick on furlough, wounded Gaines Mill, May-Oct muster roll
…feb -1863 detailed as sub enrolling officer in Oglethorpe GA
…returns private dec 31 1863-apr 30 1864 muster roll
…Sgt Appomattox roll apr 10 1865, age 21, 5'11", fair, dark eyes, dark hair
Born Oglethorpe GA, occupation farmer
…I only found this on the Oglethorpe UDC (no website):
United Daughters of the Confederacy
Oglethorpe County Chapter #1292
Contact Carolyn Bryant Faz (706) 743-5001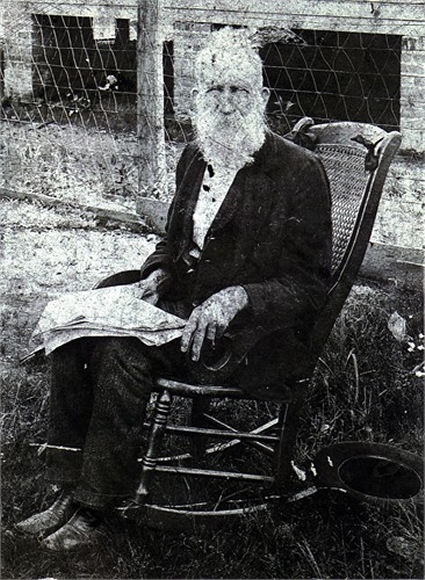 Post War Photo of John Milner Hawkins
Hawkins genealogy
…they appears as sons of Thomas (age 36) and Almaretta (25) Hawkins in Oglethorpe in the US Federal Census for 1850
…Charles A is 8 and John M is 6
…father is Thomas Harrison Hawkins (1814-1877)
…buried in Hawkins Cemetery in Oglethorpe
…son of John Hawkins (1764-1843) and Nancy Smith (1782-1836)
…mother is Amoretta Floretta Milner (1823 GA-1856)
…daughter of Jonathan Milner (1788-1844) and Rebecca Dunn (1783-1829)
The 1880 US Federal Census reports for Oglethorpe GA show:
John M. Hawkins 36
Althea V. Hawkins 33
Thomas I. Hawkins 9
Charles A. Hawkins 5
Annie G. Hawkins 2
US Federal Census for 1900, Jackson County GA
John M Hawkins 56 school teacher
Althia Hawkins 54 4 children 3 surviving
Charlis A Hawkins 26
Ell Fuller 12 boarder
US Federal Census, 1910 Jackson County, GA
John M Hawkins 66 farmer
Althia V Hawkins 64
US Federal Census, 1920 Seminole County FL
Thomas I Hawkins 48 farmer
John W Hawkins 77 father
Althia V Hawkins 73 mother
Annie G Hawkins 37 sister
My sincere thanks to the anonymous donor who researched the Hawkins brothers and sent me this material, but wished to remain anonymous, thank you!