Do you have an obituary or additional information on this soldier? If so, please email me at dnichols16@cox.net.
--------------------------------------------------------------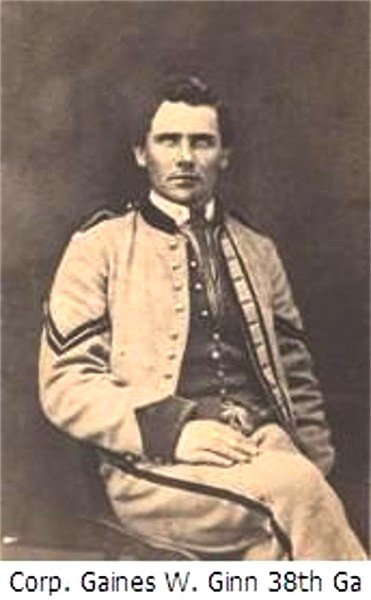 Photo courtesy of Mr. Ron Jones, descendant of Sgt Ginn and author of the book titled "The Road to Rock Island," which is a novel based on soldiers in the 38th Georgia. I highly recommend it!
Gaines W. Ginn - Pvt. 10/15/1861. Appointed 4th Corp. 3/1862; 3d Sgt 12/1863. Severely wounded at Spotsylvania, Va. 5/12/1864, Absent with leave, wounded, 12/6/1864.No later record.
Born 6/12/1841, died 5/1/1917, buried at Rehoboth Baptist Church Cemetery, Elbert Co., Ga. Brother of James A. & Singleton Ginn of same company.
Personal Letter of Gaines W. Ginn:
I volunteered in June, 1861. Left home September, 1861 and went into camp six miles from Atlanta and stayed there a while until we formed what they called A. R. Wright's Legion. We went to Savannah GA in Sept. 1861 and stayed there til June 1862. We went to the Valley of Virginia and went under Jackson. We didn't stay there but 1 day and night til we marched back to Richmond and went into what they call the seven days fight.
After that I was sick and in the hospital until the 13th of December. I was in the battle at Fredericksburg and in the battle at Gettysburg. I was detailed to guard the wagon train. When we went to Virginia we were Lawton's Brigade, 38th Regiment. Gordon took command of our brigade early in 63. My Regiment was under Gordon then til the surrender. I was in the battle on the 6th and 7th in the Wilderness, 1864. On the 12th of May, 1864 I was severly wounded at Spotsylvania Court House, Va. They hit me in the left arm between the elbow and shoulder. The doctor took out 4 inches of the bone in my arm. The same ball went through my left lung and lodged against my backbone and was cut out. I was unable to come home until September, 1864. So I have been a cripple ever since and still living.
Source: "Confederate Reminiscences and Letters" 1861-1865 VolumeXVII.