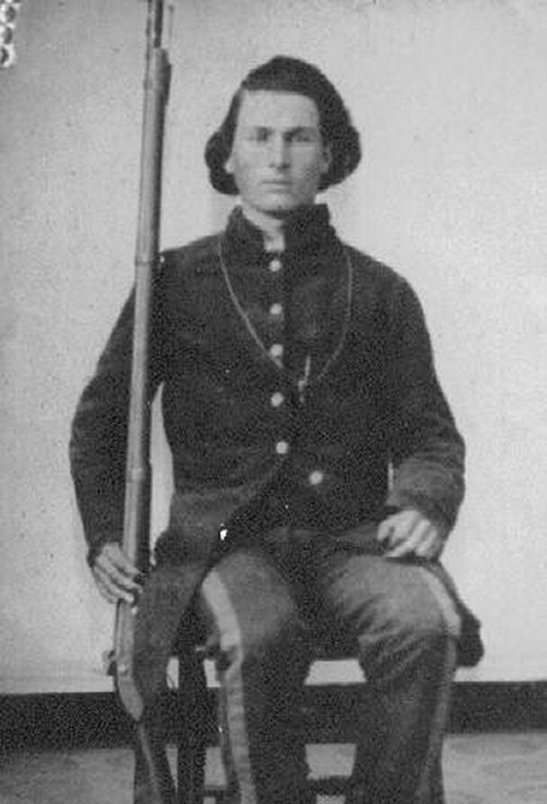 William Absalom Booth was born in Elbert County, GA, the son of Nathaniel and Martha Ann Colvard Booth and the grandson of Gabriel Booth, veteran of the War of 1812 and Elizabeth "Betsy" Stinchcomb Booth, all of Elbert County, GA.
William enlisted October 1861 in the Confederate Army in Elbert County and served in the 38th Georgia Infantry Regiment band as a bass drummer, laster transferring to Company H and being elected 2nd Sgt. on Sept 22nd, 1862. He was wounded at the Battle of Fredericksburg in Virginia two years into the war and was sent home unable to return to his regiment. His leg had been crippled by a musket ball. In April, 1864, he was then transferred to 5th Georgia Battalion and served "in special service" (even though he was disabled) until capture and surrender at Macon, Georgia, April 1865.
William A. Booth married Caroline Rosina Carrie, Sept. 4, 1873 in Kennesaw, Cobb County, GA. They farmed the land that was inherited from his father, Nathaniel, in Kennesaw, Cobb County, GA near Bells Ferry Rd. Today, the road, that ran through the property, is called North Booth Rd.
Not only was William a farmer but he was also a teacher. He taught at the Benson School, which lies two miles south of the Cherokee County line. He taught penmanship and he taught the ladies do-re-mi singing.
William and Carrie had 9 children; four boys and five girls: Benjamin Horace, Millard Seals, Eugene Theodore, Clifford "Cliff", Annie May, Alberta "Bertie", Mattie Lou, Susie Hulbert and Carrie Belle Booth.
All of their children are buried at Gresham Cemetery except Eugene, Annie and Susie. Eugene was buried in Kennesaw City Cemetery, Kennesaw, Cobb County, GA. Susie was buried at Eastview Cemetery, in Rome, GA and Annie married Luther Oscar Litchfield and moved to Lakeland, Florida. They had two girls named Dorothy and Helen Litchfield. The Litchfield's are all buried at Oak Hill Burial Park, Lakeland, Polk County, Florida.
The Booths were members of Noonday Baptist Church, Noonday District, Kennesaw, Cobb County, GA. William is buried at Gresham Cemetery, Cobb County, Georgia.
Photo and bio courtesy of Ms. Amy C. Parker, Descendant of William A. Booth.
Notice the uniform, and background (floor) of this photo match the photo of Pvt James William Thornton of Company F, also from Elbert Co. It is very likely both photos were taken in the same studio