Have a photo of Major John Y. Flowers? Have a bio or obituary of your ancestor? If you send it to me at dnichols28@verizon.net I'll post it here.
-----------------------------------------------------------
Major John Yancey Flowers was born July 16th, 1815, in Abbeville, South Carolina. He married Dicy Reeve (1817-1868), daughter of George W. Reeve, on January 6th, 1836 in Abbeville S.C. In 1860 he was 44 years old, married, with seven children at home. He and his family lived on a large farm in the Cross Keys District of DeKalb County, Georgia. He and his wife must have been especially proud of their oldest son, George N. Flowers, who was a medical doctor at the young age of 24.
At the onset of war, Mr. John Y. Flowers helped organize the third company formed from the men of DeKalb County, and it was called the "Murphey Guards," named after the Honorable Charles Murphey, of DeKalb County. Mr. Charles Murphey was a prominent lawyer and a member of Congress who had recently died. Most of the members the Murphy Guards were enlisted by Capt. John Y. Flowers and mustered into the service of the Confederate States 9/26/1861, at Camp Kirkpatrick, DeKalb County. There were two soldiers in the Murphy Guards that Captain Flowers showed a particular interest, his two sons, sixteen year old Anderson "Preston" Flowers, musician, and Private James Asbury Flowers, age 22. Two sons-in-law also served in the company. Samuel House Braswell enlisted on October 26th, 1861, and was married to his daughther Georgia Flowers. His other son-in-law, Henry Bryce Miller traveled to Savannah to enlist and joined the company on May 15th, 1862.
Captain Flowers led the company to Savannah around November of 1861, where it became part of the 38th Georgia Regiment. Captain Flowers was an able administrator and leader and was promoted to rank of Major during February 1862. The company became so popular under Major Flowers' leadership that men continued to enlist until the company became too large, and it was divided during April, 1862. The new company took the name of the "McCullough Rifles" and was designated Company D. Major Flowers led the regiment on several occasions during its' time in Savannah, to counter supposed attacks by the enemy, and also during dress parades and drill. During June of 1862, Major Flowers' health began to fail and he resigned on account of a hernia in his right side. His resignation was accepted by Confederate authorities on July 15th, 1862.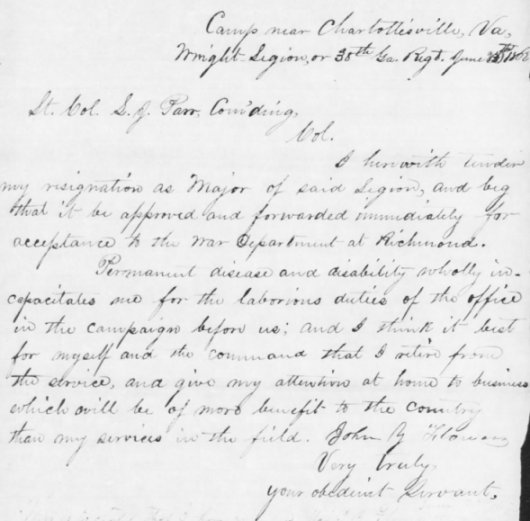 While Major Flowers returned home to his family, his two sons and son-in-law continued to share the hardships and dangers of service in the 38th Ga. Regiment. Tragically, all three would fall before the cruel hand of war.
His son-in-law, Henry Bryce Miller was the first to expire and died at Staunton, Virginia on August 24th, 1862. He was buried there in Thornrose Cemetery.
The young fifer Anderson "Preston" Flowers contracted smallpox and died Jan. 20th, 1863, the day before his 18th birthday, at Staunton, Virginia. He is also buried at Thornrose Cemetery, just a few steps from the unmarked grave of his brother in law, Henry Miller. There are only two individually marked graves in the Confederate section of Thornrose Cemetery and Anderson Flowers' grave is one of the two. Over 1,000 other Confederate soldiers are buried adjacent to and surrounding the grave of Anderson P. Flowers, but in unmarked graves.
Three weeks after Preston's death, 24 year old James Asbury Flowers died in camp on February 11th, 1863. Within the short span of seven months, the Flowers family was forever changed and left to mourn their heavy loss of three loved ones.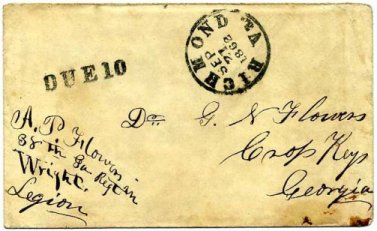 Envelope for letter from Anderson "Preston" Flowers to his brother Dr. George N. Flowers, dated Sept. 21st, 1862. Note he identifies the unit as Wright's Legion and the 38th Ga.
Dicey Reeve Flowers died on her birthday Sept 11. 1868, at the age of 51. Major Flowers lived nearly another 20 years after Dicey's death and died on August 6th, 1887, in DeKalb Co GA. He is buried at Nancy Creek Primitive Baptist Church Cemetery, DeKalb County, Georgia.