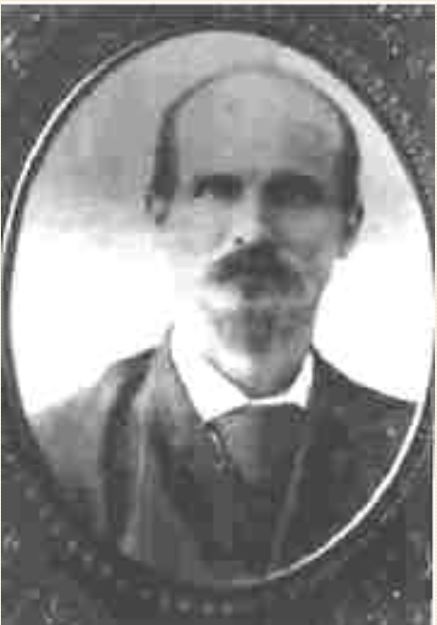 Photo courtesy of Mr. Chandler Eavenson
Eavenson, John W. (John William Eavenson) - 3d Sgt 10/15/1861. Appointed 2d Sgt June 22, 1862. was wounded Dec 13, 1863 and disabled, at Fredericksburg, Va., while turning around to speak to the Capt., a ball struck him in the back of his left shoulder and coming out through the front. Appointed 1st Sgt March 29, 1863. Transferred to Co. G, 25th Battn. Ga. Provost Guard Inf. in 1864. Appears on rolls of Co. M, 25th Battn. Ga. Provost Guard Inf. dated April 16, 1864, as 2d Lt., presence or absence not stated. Elected 2d Lt. Co. E, 1st Battn. Ga. Reserve Cavalry March 23, 1864. Roll from March 23, to October 31, 1864, only roll on file, shows him absent sick. No later record. (Born in Elbert County, Ga. May 28th, 1840. Died December 1, 1935.) In 1860, John Eavenson was a single farmer living with his parents, George and L. Eavenson, along with eight siblings. John Eavenson was the brother of Willis Jefferson Eavenson and Thomas M. Eavenson, both of Company F.
John married Jane J. Oglesby on May 18th, 1865. He filed a CSA pension application in Elbert Co. in 1900. Stated in application he was wounded so severely at Fredericksburg that he was discharged from the service. Stated occupation as saw milling. L. D. Thornton signed an affidavit attesting to his wounds and service. Buried at Hill Crest Cemetery, Elbert County, GA, lived to be 95 years old. Tombstone reads: Capt. Co F. 38 Ga Reg CSA.
One of his daughters, Eugenia Sexta Eavenson Strickland, is the authoress of The Pledge to the Georgia Flag and The Georgian's Creed; a truly remarkable lady.
The book entitiled: A Georgia Patriot, Sexta Eavenson Strickland, by Tommie Phillips La Cavera chronicles her great accomplishments to her State of Georgia, as well as her country. Her entire life was dedicated to a higher calling.
Sources: 1860 US Federal Census: Elbert District, Elbert, Georgia; Roll: M653_120; Page: 761; Family # 74.
1860 U.S. Federal Census - Slave Schedule, Elbert County, GA.
Georgia CSA Pension Records
Other information provided by descendants.

Find A Grave Link:
https://www.findagrave.com/memorial/45748721/john-william-eavenson