Have a photo of this soldier? Have a bio or obituary of your ancestor? If you send it to me at dnichols28@verizon.net I'll post it on this website.
------------------------------------------------------------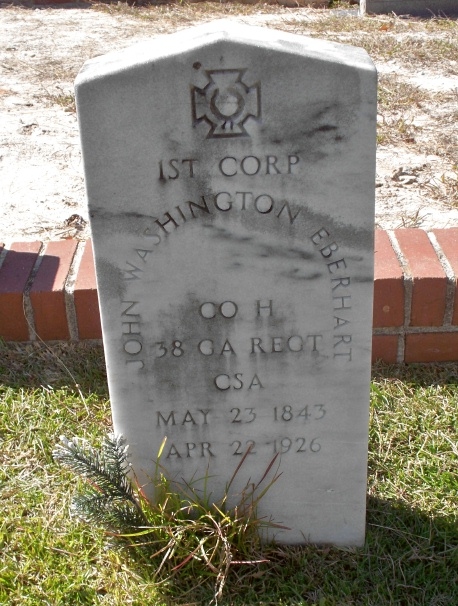 Honoring and remembering Corporal John Washington Eberhart, of Company H, The Goshen Blues, from Elbert County Georgia.
He was the son of James Wood and Elizabeth Jane Cooper Eberhart of Elbert County, GA, the grandson of John E. and Catherine Wood Eberhart of Hall County, GA, the great-grandson of David and Susannah Griffith Eberhart, also of Hall County and the great-great grandson of Jacob Eberhart, Sr. and Catherine of Elbert County, GA.
John W. Eberhart was a Confederate Veteran. On March 4, 1861, he enlisted as a private at Camp Bartow, Elbert County, GA in Company H. 38th GA Infantry (Goshen Blues, Wright Legion). From March-April 1862, he was listed as 2nd Corporal and from April 30, 1862-December 1863, he was listed as 1st Corporal.
On May 12, 1864, het was captured near Mine Run, Virginia at the Battle of the Spotsylvania Courth House and was taken to Fort Delaware Prison. On March 7, 1865, J.W. Eberhart was exchanged and then was discharged on April 6, 1865.
On October 16, 1869, John Washington Eberhart married Synthia Ann Booth in Elbert County, GA. They were married by W.R. Crook, J.P. (Elbert County Marriage Book, 1866-1874, p. 150). Later, they had four children.
In August, 1890, the Eberhart's moved to Paulding Couty, GA with farming as being the occupation.
On Thursday, April 22, 1926, John Eberhart died in Dallas, Paulding County, GA of chronic nephritis, appoplexy and high blood pressure. On Friday, April 23, 1926, Eberhart was buried in Poplar Springs Cemetery in Hiram.
Find A Grave Link:
https://www.findagrave.com/memorial/60120978/john-washington-eberhart