Have a photo of these soldiers? Have a bio, or obituary, of your ancestor? If you send it to me at dnichols28@verizon.net I'll post it on this website.
-----------------------------------------------------------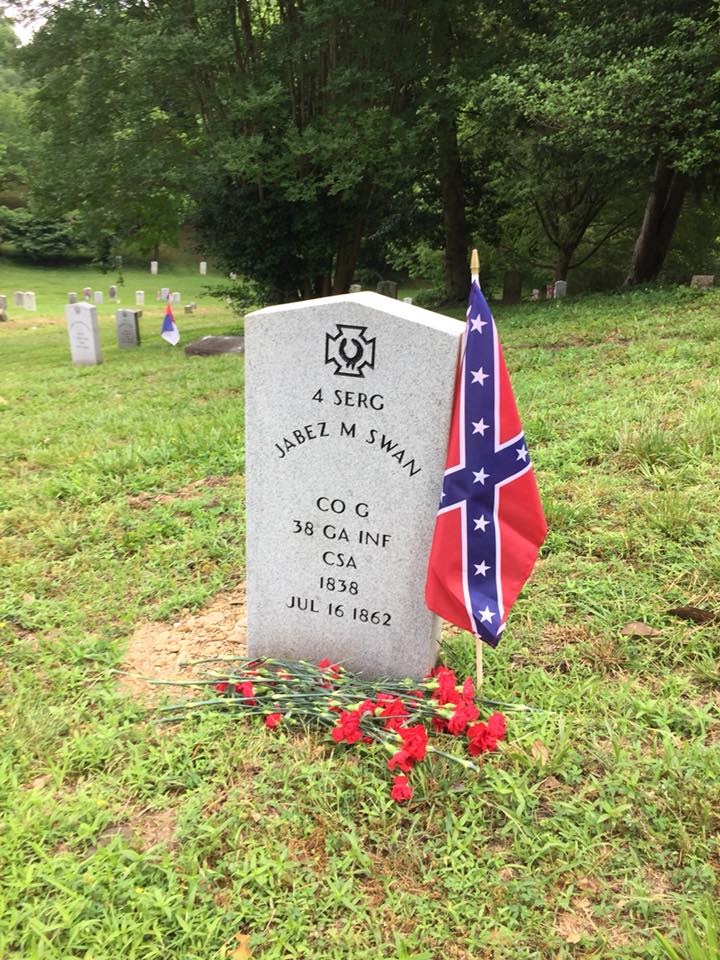 Honoring and remembering the Swann brothers, of Company G, The Battey Guards, from Jefferson County, Georgia. The Swann brothers were the sons of Elizabeth Gross Swann and William Swann. William Swann died in Jefferson County, Georgia in 1850. Nine Swann brothers served in the Confederate Army during the war. Four of the nine served in the 38th Georgia Regiment and three of these perished in the war. Five other Swann brothers also served the Confederacy and three of these five also died in the war. Altogether, six of the nine Swann brothers perished in the war.
Swann, Henry J. (Henry Jackson Swann) - Private 10/1/1861. Roll for Jan.-Feb 1862, shows he was discharged, date not given. Born 4/25/1825, died 11/14/1861, buried at Ebenezer Associate Reform Presbyterian Cemetery, Jefferson Co., Ga.
Swann, Jabez N. - 4th Sergeant 10/1/1861. Died at Richmond, Va. 7/16/1862. Buried at Hollywood Cemetery, Richmond, Va. Cemetery records show I. M. Swan, Co., G, 3rd Ga., died 7/17/1862. There is no record of a I. M. Swan in the 3rd Ga. Born abt. 1838. CSA marker recently placed on his grave by descendants.
Swann, Joshua K. (Joshua Key Swann) - Private 5/15/1862. Captured and paroled in 1862. Detailed in hospital 8/1/1864. Died in Jackson Hospital at Richmond, Va. 2/8/1865. Buried there in Hollywood Cemetery. Hollywood Cemetery records show: Swann, J. K., Company G, 38 Ga., died 2/8/1865, buried in Section W, grave #94, CSA grave marker. Born abt. 1836. Grave marker appears in opening scene of movie titled "Death and the Civil War," released in 2012 by film maker Ric Burns.
Swann, Thomas E. - 5th Sergeant 10/1/1861. Roll dated 11/4/1864, last on file, shows him "Absent detailed with Major Harman 10/28/1864." No later record. Appears on a list of casualties for the battle of 2nd Manassas, 8/28/1862, wounded. Filed a CSA pension in Jefferson Co., Ga. during 1899. Born 9/4/1834, d. 10/4/1899, buried at Baptist Church, Jefferson Co., Georgia.
Photo courtesy of Ms. Julie Hardaway, descendant.