Do you have a photo of this soldier? Do you have an obituary or additional information on this soldier?
Or, can you tell the story of your ancestor who served in 38th Ga.? If you send your ancestor's story, I'll post it here. Please email me at dnichols16@cox.net.
--------------------------------------------------------------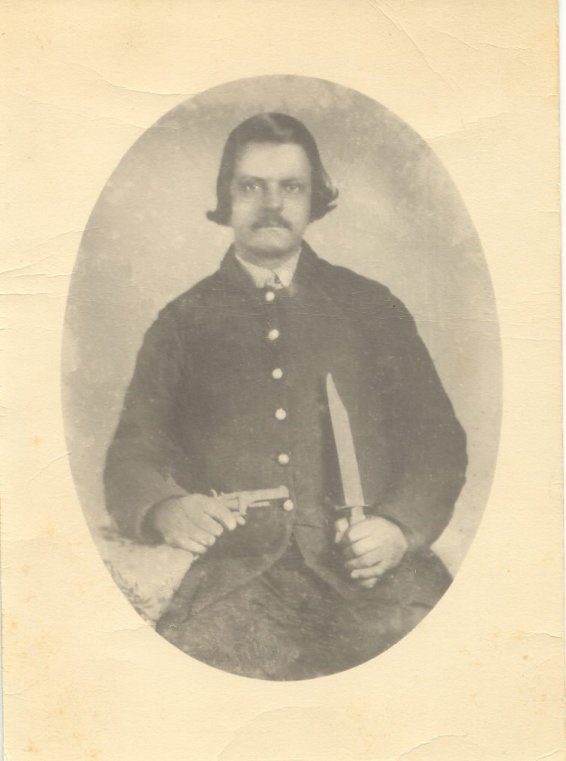 Private Jonathan Green Seymour was son of Zachariah William Seymour, Jr. and Polly Ann Fork. He was born Feb 28th, 1839, in Elbert County, GA. Green enlisted in Company H of the 38th Georgia Regiment on October 15th, 1861, and rendered honorable service throughout the entire war. one brother, Pvt. Jesse A. Seymour also served in Company H.
The following article is from the Elberton Star Newspaper dated Feb. 2nd, 1889, and mentions Green Seymour's participation in the first day (July 1st, 1863) battle of Gettysburg:
During the battle of Gettysburg, Company H 38th Georgia Regiment, Gordon's brigade, was formed of Elbert County soldiers, known as the "Wool Hat Boys". On the first of July, 1864, at Gettysburg, Pa., Gordon's brigade fought the enemy on the north side of the town and after a severe battle, the Yankees retreated. Gordon's brigade advancing on them and forming a line of battle in the rear of the county asylum. In front of that building was a large three-story brick barn, in which a large number of Federal troops had taken refuge.
A call was made for men to volunteer as skirmishers, as the position was a most dangerous one and required soldiers of steady nerves and clear heads. J.E. Campbell, Green Seymore, William Kirby, John King, Jasper Harbin and Phil W. Alexander, all Elbert County boys and members of Company H, stepped forward and announced their readiness to undertake the dangerous service. They were told to go on picket duty and take all prisoners who wished to surrender, penetrating the enemy's lines as far as possible. While two of the men went directly to the barn…the other skirmishers had not been idle. Seymour and King went above the barn, around a garden, where they opened fire on a large squad of Yankees stationed there, forcing them to vacate their position and fall back into the town. Campbell, Seymour, King, Kirby and Harben all then united and went over into the town of Gettysburg and mingled freely with the Yankee troops, who were too much demoralized to molest them. They visited the Federal hospitals and saw the wounded men treated, walking around as freely in the Federal camp as the Yankees themselves.
Of the brave men who figured in the above daring deed, they are all still alive. J. E. Campbell is the well-known peddler of our county; Green Seymore is farming in Webbsboro district.
Green went on to perform honorable service for the remainder of the war and surrendered at Appomattox Court House with the remnants of the 38th Georgia Regiment on April 9th, 1865. On the final roll call roster for Head Quarters 38th Georgia Regiment, dated April. 10, 1865, Greene is described as being 25 years old, 5'10" tall, complexion is fair, born in Elbert Co., Ga., occupation: farmer.
Greene made his way back to Elbert County and he married Martha Annie Booth, daughter of Elizabeth Katherine Tucker Booth and John Randolph Booth, on November 15th, 1866, in Elbert County, Georgia. They had seventeen children together.
Personal stories passed on through generations
When Jonathan Greene came home after the Civil War, he had nothing in the way of resources but land and some blacks who stayed on. He continued to develop the land. He had no tools, so he made his own. He built a home and farmed the land. He apparently also made and sold furniture. It is told that on occasion the family would have no table to eat on because he had sold it to someone, and they would have to wait until he could make another one.
A favorite family story concerned the time when some of his offspring came home and enjoyed a big pot of what they thought was "pot likker", left over from vegetables. It turned out that the pot had simply been put to soak.
At some point their home burned and another had to be built.
As time went by, however, Jonathan Green prospered, and life must have been more pleasant. He owned good horses, and purchased an automobile in the days when automobiles were a luxury. Green filed a CSA pension application in 1919, in Elbert Co. Ga. T. D. Thornton signed an affidavit supporting his pension application. Green's wife Martha died on August 22nd, 1919 and Green lived nearly another decade, dying on April 13th, 1928. Both Green and "Mulley" are buried at Dewy Rose Baptist Church Cemetery. Elbert Co. Ga.
Biography and photo courtesy of Ms. Linda Seymour Byers, descendant of Jonathan Green Seymour.