Have a photo of this soldier you'd like to share? Have a bio or obituary of your ancestor? If you send it to me at dnichols28@verizon.net I'll post it on this website.
---------------------------------------------------------------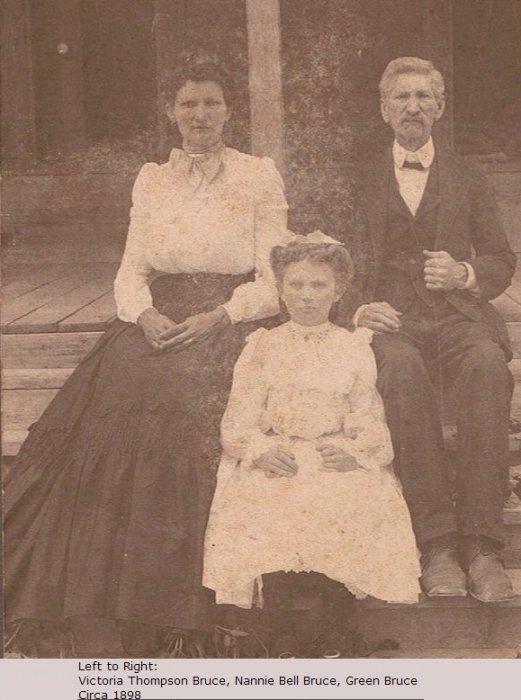 Bruce, Green B. (Greene B. Bruce) - Pvt. 5/1/1862. Captured at Jericho Ford, Va. 5/22/1864. Exchanged at Point Lookout, Md. 3/22/1865. Greene fought in several major battles, including Seven Days, Antietam, the Wilderness and Cold Harbor.
Greene enlisted in the 38th Ga. along with two of his brothers, Mac V. & John A. Green, all in Co. B. According to his Confederate pension application on file at the Courthouse in Ackerman, Mississippi, dated Sept. 1903, Greene was born in Habersham County, Georgia in 1831. He enlisted with the Confederate Army from Milton County Co., Ga., in Co. B, 38th Georgia, on Oct. 6, 1861. He was wounded at the battle of Sharpsburg (Antietam.) He contracted small pox in the military hospital while under treatment for his wounds at Sharpsburg. After recovering from his wounds and small pox, he returned to the battlefield and subsequently contracted typhoid fever in May 1863 and was sent to Chimborazo Hospital in Richmond Va. After release from the hospital he rejoined the 38th Ga. until captured at the battle of Jericho Ford, Va. on May 22, 1864. He was released from prison 3/22/1865 and rejoined the Confederate army just two weeks before surrendering with General Lee's Army at Appomattox Court House, Va., on April 9th, 1865.
Greene died of pneumonia at age 79, at Fentress, Mississippi, on March 22, 1910. He is buried at Mount Moriah Cemetery near French Camp, MS. next to his 1st wife Mary, who was killed in 1883 when a cyclone stuck their log home during the locally famous Cyclone of 1883.
Courtesy of Mr. Steve Thevenot, descendant.