Do you have a photo of this soldier? Do you have an obituary or additional information on this soldier?
Or, can you tell the story of your ancestor who served in 38th Ga.? If you send your ancestor's story, I'll post it here. Please email me at dnichols28@verizon.net.
------------------------------------------------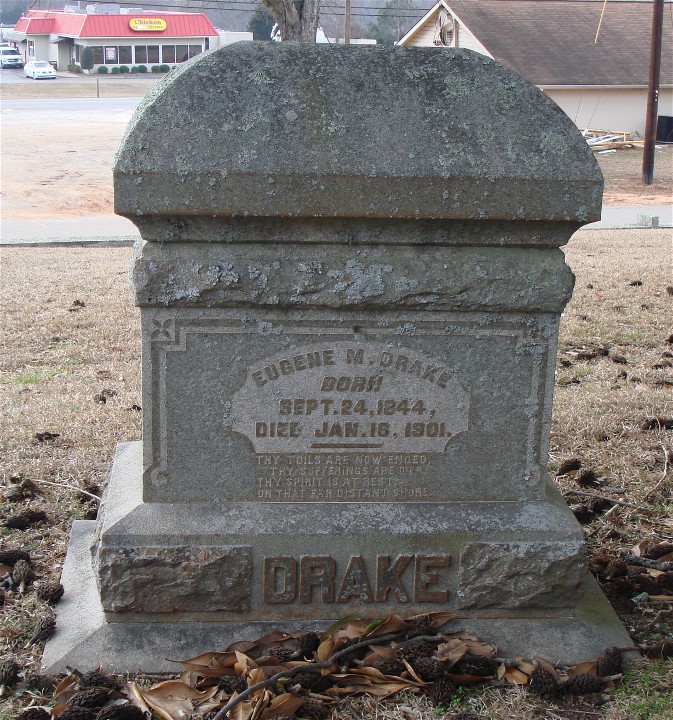 Eugene M. Drake - Pvt. 9/29/1861. Wounded in 1862. Discharged, disability, November 5, 1863.
Reported as wounded in the battle of Gaines Mill, 6/27/1862.
Obituary, Oglethorpe Echo Newspaper
Friday, Jan 18th, 1901
Eugene M. Drake died at his home in Lexington at 6 o'clock p.m. January 16th of obstipation of the bowels. He had for several years suffered from an obstinate case of constipation. Eugene Drake was born Sept. 24th, 1844, near Woodstock. He was the son of Hon. James V. Drake who, at one time, represented the county in the Georgia Legislature. Eugene was a brother of J. Frank Drake. Eugene Drake was a good citizen and good neighbor. He was married to Miss Cornelia Wilcoxen of Huntsboro, Ala, December 9th, 1887, whom he leave with one child, a boy, James Lee Drake, to morn his loss. Funeral services were held at the Methodist Church yesterday afternoon at two o'clock conducted by Rev. W. A. Farris. Pallbearers conveyed the remains to Clarke Cemetery where he was laid to rest.