Do you have a photo of this soldier? Do you have an obituary or additional information on this soldier?
Or, can you tell the story of your ancestor who served in 38th Ga.? If you send your ancestor's story, I'll post it here. Please email me at dnichols16@cox.net.
--------------------------------------------------------------
Booth, W. A.- (William Absolam Booth) Bass Drummer. 10/15/1861. Transferred to Co. H. Appointed Sgt. Wounded and disabled at Fredericksburg, Va. 12/13/1862. On special service with G. W. Lee's Battn. in Ga., disabled, 8/31/1864. Captured at Macon, Ga. April 1865.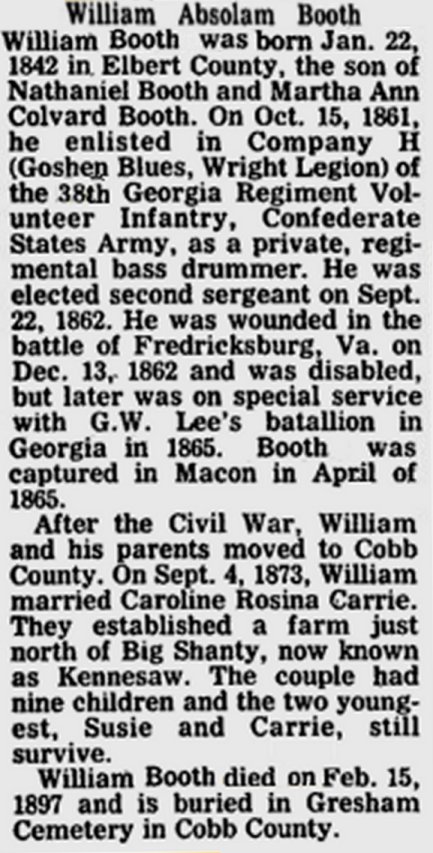 ---------------------------------------------------
OLIVE SPRINGS
Mr. John A. Booth Dead
Mr. John A. Booth, 85 years old, a Confederate Veteran and a good and respected citizen, died at his residence here on Wednesday afternoon at 6 o'clock after a long and painful illness, patiently borne. Mr. Booth willingly obeyed the summons of the Great Judge of the Universe, who came and wafted the spirit from the earthly cares to the great God who gave it. May we all submit to the will of God, who doeth all things well and one who can't make a mistake. He has been a member of the Baptist Church for a number of years and has been a worthy Christian and a true and devoted father. Having lived in this community near 40 years, being well known and highly respected by everyone in this community and throughout the county.
The funeral was conducted from Olive Springs Baptist Church on Friday morning at 11 o'clock by Rev. G.V. Crowe, his pastor. The songs were "Shall we Gather at the River", "How Beautiful Heaven Must Be," "Asleep in Jesus", "Just A Little While". The interment was in Maloney Springs Cemetery in charge of the Masonic order. The pallbearers were selected from among the grandsons.
As a soldier or as a private citizen, Mr. Booth was always a lovable personality. He was particularly fond of children, and those of the community always made it a point and felt it a great honor to shake hands with him.
He leaves five children. Messrs. John W. and G.L. Booth, Mrs. R.T. Vaughn, Mrs. C.J. Pair and Miss Eddie Booth, all of this county, a host of grandchildren and a large number of relatives and friends to mourn his absence. We do so deeply sympathize with the sorrowing ones in the home where he is so sadly missed.
A large concourse of friends followed the remains to the last resting place where the grave was literally covered with beautiful flowers. To pay their last respect there were here to attend the funeral a number from Atlanta, Smyrna, Milford, Marietta, Canton and Woodstock.
May 15, 1924
p. 10, col. 1, Thursday
Marietta Journal