Do you have a photo of this soldier? Do you have an obituary or additional information on this soldier?
Or, can you tell the story of your ancestor who served in 38th Ga.? If you send your ancestor's story, I'll post it here. Please email me at dnichols16@cox.net.
------------------------------------------------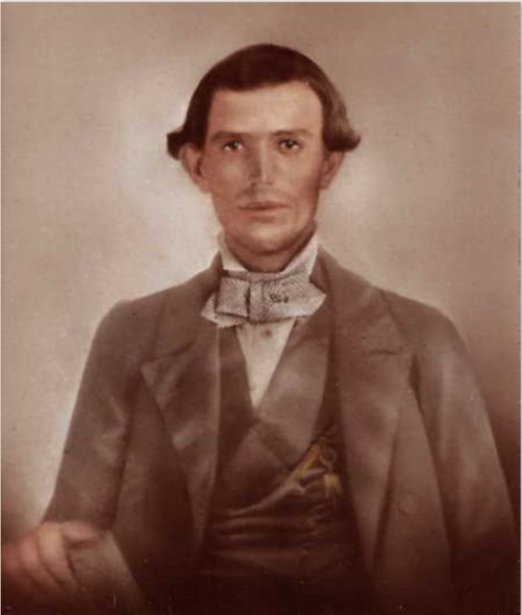 Cunningham, John W - Pvt 1/6/1862. Roll for 11/4/1864, last on file, shows him present. No later record. Died 1/6/1904, at Denton Co., TX. Buried there in Odd Fellows Cemetery.
A number of facts and incidents that are a part of the real history of the agricultural community around Roanoke in Denton County are revealed through a brief record of the experiences of the Cunningham family, who have been honored and respected and useful residents of that locality since 1877. William Fred Cunningham was a bout sixteen years of age when he began to share in the family experiences in that locality, where he has lived and worked and done his part as a citizen more than forty years.
The record of the Cunningham family goes back to Ireland, from which country Asa Cunningham came to Virginia in Colonial times. One of his children was Billie Cunningham who lived for some years in the Carolinas and later moved to Oglethorpe County, Georgia. Oglethorpe County was the home of the family for several generations. James Cunningham a son of Billie Cunningham was born in South Carolina in 1812 and was a child when the family moved to Georgia. He had some part in helping to remove the Cherokee Indians from Georgia to their reservation in Indian Territory. His active life was spent as a farmer and planter, employing a few slaves to operate his fields. He was a splendid type of citizen, high minded, straightforward, earnest in everything he undertook, and was elected sheriff of Oglethorpe County at the beginning of the war between the states, and performed the multitude of duties devolving upon that office throughout the war. His last years were spent on his farm near Lexington, Georgia, where he died when about eighty-eight years of age. He married Patsy Watson, and their children were John W, George, Cap, Lizzie, Polly and Amanda. The daughters never married and are buried on the old homestead by the side of their parents. All the sons became Confederate soldiers, and George and Cap are still living in Oglethorpe County.
The founder of the family in Denton County, Texas, was the late John W. Cunningham, who died on his farm near Denton in 1904, at the age of sixty-eight. He was born in Oglethorpe County in 1836, acquired a good education, and made a splendid record as a soldier. He was in the Thirty-eighth Georgia Infantry as a private in Captain Matthew's Company, and was in Stonewall Jackson's Corps until his great commander was killed during the Wilderness campaign. After that he served under General Gordon. He was in many battles but never received a wound. Once his knapsack was knocked off, at another time his rifle was knocked from his hand, and again a bullet grazed his cheek. He was on a furlough when General Lee surrendered at Appomattox, and never returned to his command. He accepted philosophically the results of the war, and in later years displayed no bitterness whatever, and in fact seemed to rejoice that the struggle ended as it did and he took pride in the greatness of a united country. He admired the character of Mr. Lincoln and, like a host of other citizens, believed that his tragic death was the greatest possible loss to the South. He became a member of the Masonic Order in Georgia, but never participated in politics, and his real life was chiefly expressed through his business and his home.
On leaving Georgia he brought his family by rail to New Orleans, thence by steamship to Galveston, and traveled as far as Crockett on the International and Great Northern Railway. Ox teams conveyed them to Nacogdoches County, where the family spent the years 1875-76. In the fall of the latter year they proceeded to the end of the Texas & Pacific Railroad, then at Fort Worth, and the children attended school in Fort Worth during the following winter. In the spring of 1877, they made their final move to Denton County, John W. Cunningham establishing his home east of Denton on a tract of new land. He was a factor in that community seventeen years. He reached there with limited means, but exhibited superior skill in the handling of cotton and corn crops, and eventually acquired a fine farm of 200 acres on Elm Creek, and lived out his life practically in the same neighborhood. His land was heavily timbered and he had his son Fred put forth tremendous exertions for some years in clearing up and developing it as a farm. While John W. Cunningham was not widely known outside his home community, the record of his life is one that every member of his family can cherish. He was regarded as the best cotton raiser in his locality, and he also favored good stock, though he had no registered animals. He favored education, believed in peace and order and in good government and while not a church member his presence was an element in raising the moral and spiritual standards of his neighborhood. He voted as a democrat and was deeply interested in current affairs.
John W. Cunningham married Frances Barnett, who died the year following her husband's death, at the age of sixty-eight. Her parents were Abel and Rachel (Meadows) Barnett, of Oglethorpe County, Georgia. John W. Cunningham and his wife had three sons: William Fred; George, who died in Old Mexico and is survived by a daughter, the wife of Doctor Claxton of Brooklyn, New York; and Luther A., of Denver, Colorado.
William Fred Cunningham was born near Lexington, Georgia, December 15, 1861, and his early education was the product of common schools in several different localities. His home was with his parents until he was twenty-seven, and when he married he established a temporary home nearby. He came to his permanent location, January 1, 1900, and has lived in that community on Denton Creek for over twenty years. The first year he rented the land and made a beginning with only a wagon and team, but owed practically all that equipment was worth. He had learned the secret of success in cotton growing under his father, and the first year he set a splendid example of thrift and energy. He hired only seventeen days work done, picked twenty-seven bales of cotton, raised 600 bushels of corn and twenty of potatoes, and in the fall was able to purchase his land outright, paying for it from the proceeds of his cotton crop. Of course land at that time was cheap, being from ten to twenty dollars an acre. The favorable results of his first year as an independent farmer have continued, and of twenty crops planted on his home farm there has been only one year of failure in getting a harvest of corn. He continued up to a few years ago investing his surplus in land, and is now owner of almost 1,000 acres, practically half of which is devoted to productive agriculture.
While this is a brief record of his material prosperity, Mr. Cunningham has not been less attentive to his obligations and duties as a citizen and as a factor in his home community. For eight years he was a member of the School Board and instrumental in getting the special taxes for his district. In 1912, he was elected a county commissioner to succeed John A. Harmonson, and during the first four years served with Commissioners Sweat, Morgan and Rile, and the last two years with W. S. Ready, John F. Morgan and E. W. Forester. He had hardly taken his seat on the board when he began an agitation for good roads and bridges, but had practically nothing to show for his earnest advocacy until the last two years of his membership. About that time colleagues were chosen similarly minded, and energetic plans were laid to provide a good roads system, which has been carried out so far as possible by subsequent boards, and Mr. Cunningham has the satisfaction of seeing a highway practically finished across the county from North to South. While he was on the board he was instrumental in building a permanent road from Denton to Ponder, six miles of gravel road east from Roanoke and a five-mile stretch of gravel out of Denton south. These public works were performed largely with convict labor and at a cost of about twelve hundred dollars to the mile.
In 1888, Mr. Cunningham married Miss Effie Camp. She is survived by two children, Carl and Maggie, the latter the wife of John Beard, of Denton. The second wife of Mr. Cunningham was Miss Bertha Heath, daughter of John and Sallie (Burleson) Heath. Mr. and Mrs. Cunningham have five children: Freddie, Gordon, Thelma, Bula May and Alvin. Her father, John Heath, brought his family to Texas from Mississippi after the war, and settled on Denton Creek, where Mrs. Heath died. John Heath was a Mississippi soldier in General Loring's command in the 20th Division, was in the battles of Fort Donelson and Murfreesboro, and in Bragg's Tennessee campaign. Like John W. Cunningham, he never was scratched by an enemy bullet, though a minie ball struck his rifle and bent the barrel almost around him. John Heath has always been a splendid example of physical vigor and manhood, and though now eighty years of age he rides about his farm and makes a crop and is active as many men in middle life. He inherits his physical vigor, his father, Lamarcus Heath, who died in 1903, having attained the venerable age of ninety-four. The children of John and Sallie Heath were: John; Van, wife of Robert Mulinex; Miss Lina, deceased; Mrs. Georgia Underwood, who died at Ardmore, Oklahoma; Mrs. Cunningham; Loren J.; Charles; and Ellis.
Photo and biography courtesy of Ms. Shirley Hobbs, descendant.