Have a photo of this soldier you'd like to share? Have a bio or obituary of your ancestor? If you send it to me at dnichols28@verizon.net I'll post it on this website.
---------------------------------------------------------------
Isaac Newton Nash was born June 6, 1843 in DeKalb County, Georgia. On March 1, 1862, Nash enlisted as a private. He was promoted to corporal in July 1862. A year later on July 1, 1863, he was wounded in the left hand by grape shot during the battle of Gettysburg. Put in the ambulance train, Nash was transported to the hospital in Winchester, Virginia where the gangrened hand was amputated three inches above the wrist. He was transferred to the 25th Georgia Battalion (Provost Guard) in Atlanta, but was given a certificate of total disability in February 1865.
He married Indiana Camp on December 31, 1864 in DeKalb County. After the war, Nash attended Emory College, became a teacher, eventually took up farming, and served as DeKalb County tax collector. Nash joined the Clement A. Evans Camp 665 of the United Confederate Veterans and was active in veterans affairs, helping many veterans and widows apply for and receive Georgia Confederate pensions. The United Daughters of the Confederacy awarded him the Southern Cross of Honor. Nash died November 29, 1913 and is buried at Stone Mountain Cemetery, DeKalb Co., Ga.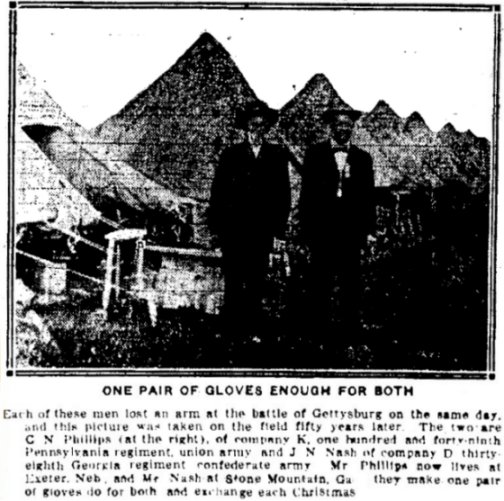 Source:
Confederate Veterans of Stone Mountain
By Chris Davis
A Project of The Confederate Memorial Camp 1432, 2000