Have a photo of this soldier? Have a bio or obituary of your ancestor? If you send it to me at dnichols28@verizon.net I'll post it on this website.
-----------------------------------------------------------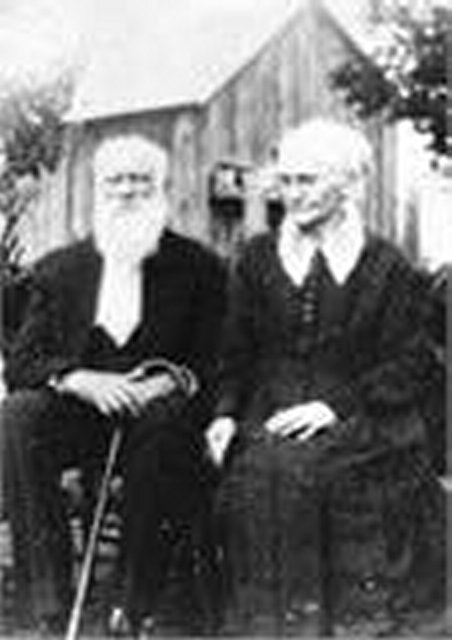 Sergeant Starling G. Harris

Photo Courtesy of Mr. Brain Hinkle, descendant.
Biographical and Historical Memoirs of Western Arkansas
POPE COUNTY,
Starling G. Harris. It is a fact well recognized among all intelligent people that a thorough education and advanced acquaintance with books of learning are of great material benefit to man, no matter in what channel of life his path may lie. The career of Mr. Harris is a striking illustration of this truth, for although his early educational opportunities were not of the best, yet he has at all times been a thoughtful reader, and has made a practical use of the knowledge thus gained.
He was born on March 16, 1842, in the State of Georgia, and in the month of March, 1875, became a resident of Pope County, Ark., settling on land that is now known as Colony Mountain. He was reared to a farm life in his native State, and in 1862 began doing for himself. In June of that year he enlisted in the Confederate Army, becoming a member of Company A, Thirty-eighth Georgia Regiment, afterward taking part in the engagements at Cold Harbor, Malvern Hill, Gettysburg, the Wilderness (where he was wounded, and on this account was transferred to the State Troops, being commissioned second lieutenant of Dyer's battalion). He remained in the service until the close of the war, then returned to his home in De Kalb County, Ga., and there was engaged in milling for about one year.
At the expiration of this time he went to Blount County, Ala., and after farming there for about three years moved to Birmingham, in which place he was engaged in the timber business for some three years. Since then he has resided on his present farm. His first purchase was fifty acres of land, to which he has added from time to time, until he now has 310 acres of good farming land which he has nicely improved with good residence, barns and other necessary buildings, a fine young orchard, which is already producing enough fruit for family use, and substantial fences. Ninety-five acres are under cultivation, and in 1885 he erected thereon a good grist-mill and cotton-gin, which he has operated successfully.
He is now erecting a building in which he intends to open a general mercantile business, and expects to have everything in working order by October 15. He was married on November 11, 1867, to Eliza Jane Bagwell, with whom he lived for eighteen years, when she departed this life October 18, 1885, leaving besides her husband five sons and three daughters to mourn their loss. May 12, 1886, Mr. Harris remarried, his wife being Mrs. Martha F. Mason, a daughter of James M. and Mary Tate of this county, the latter being now a resident of Johnson County, Ark. The names of the children by his first wife are as follows: Charley V., Lavonia V., Ettie L., Oscar G., Gordon P., Sallie A., Albert J. and John C. Lavonia is the wife of Riley Leavell, and resides in Johnson County, and Charley V. is clerking for the firm of F. C. Jones & Co., of Bellville, Yell County, Ark. Mr. Harris and his family are members of the Baptist Church, and he belongs to the A. F. & A. M., and is a Democrat. His parents were John and Sarah (Brown) Harris.
Died 12/29/1930, buried in Adams Cemetery, Johnson County, AR.