Have a photo of this soldier? Or have a bio of your ancestor? If you send it, I'll post it here. Please email me at dnichols16@cox.net.
--------------------------------------------------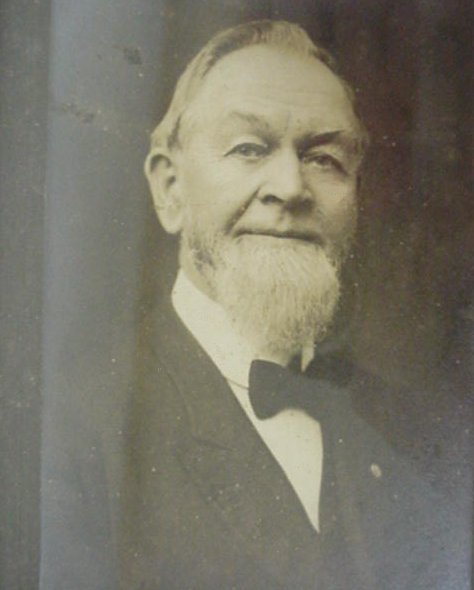 Jabez Mercer Brittain was born in Oglethorpe County, Georgia, on May 4, 1842. He was the youngest child of Henry L. Brittain and Louisa Booker, Henry's second wife. His father was a farmer and Clerk of the Ordinary in Oglethorpe County for about 30 years in the mid-1800's. His father and grandfather, George Brittain, had migrated to Oglethorpe County from Henry County, Virginia, in 1797.
Jabez' early education occurred at the Mison Academy in Lexington, Ga., under the tutelage of Prof. T. B. Moss. He enrolled at Franklin College (now the University of Georgia) in Athens, Ga., in January 1859 and graduated in the summer of 1861.
Along with his graduating class, Jabez enlisted in the 38th Georgia Voluntary Infantry (Tom Cobb Infantry) in September 1861. The unit was initially sent to Savannah, and then on to become part of the Army of Northern Virginia in
Lawton's Brigade, Stonewall Jackson's Division. Enlisting as first sergeant, he rapidly moved up in rank to First Lieutenant. He served a term as enrolling officer in the Georgia Sixth Congressional District in 1862. He was appointed as chaplain in June 1863. His unit participated in many major battles. He was mustered out in August 1864, and returned home to assume responsibility for the family farm and his aged parents.
On January 19, 1865, Jabez was married in Wilkes County to Sarah Ida Callaway, daughter of William Reeves Callaway and Rhoda Ann Cheney. They had four sons and one daughter. Their oldest son ,Marion Luther, was born in Wilkes County on 11 Nov 1865 and later became State Superintendent of Schools and President of Georgia Institute of Technology. William Henry, second son, was born in Cartersville, Bartow Co., Ga., on 25 Mar 1870. For many years he was an executive in the J. M. High Company of Atlanta. Charles Mercer was the third son, and was born in Conyers, Rockdale Co., Ga. He became a Baptist minister and was executive secretary of the Florida Baptist Assembly. The fourth son was Eugene Callaway, born on 1 Jan 1879 in Georgia. He was a graduate of Mercer University and a schoolteacher. Lillian was the only daughter. Her date and place of birth is uncertain, but might have been in either Wilkes or Rockdale County about 1867.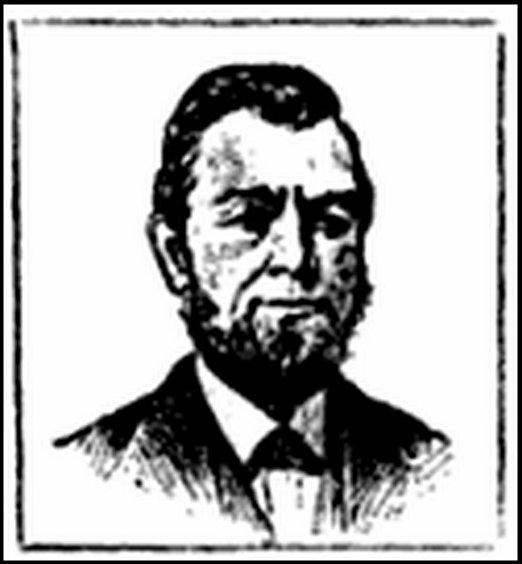 In 1863 Jabez was ordained by the Baptist Church in Lexington, Ga. He was pastor of Baptist churches throughout Georgia, as illustrated by the varied places his children were born. He also served churches in Covington,
Barnesville, Stone Mountain, Eatonton, Fort Valley, and Atlanta.
Jabez died on 11 Feb 1912 at his home in Atlanta. He is buried in West View Cemetery in Atlanta.
Bio and photo provided courtesy of Mr. Thomas Mercer Brittain, descendant of Jabez Brittain.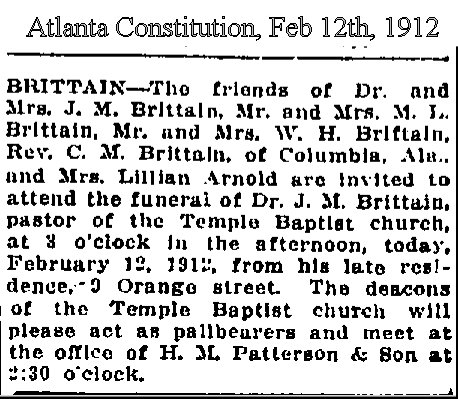 Drawing from: History of the Baptist Denomination in Georgia - Volume 2 By Samuel Boykin, page 61.