Have a photo of this soldier you'd like to share? Have a bio or obituary of your ancestor? If you send it to me at dnichols28@verizon.net I'll post it on this website.
------------------------------------------------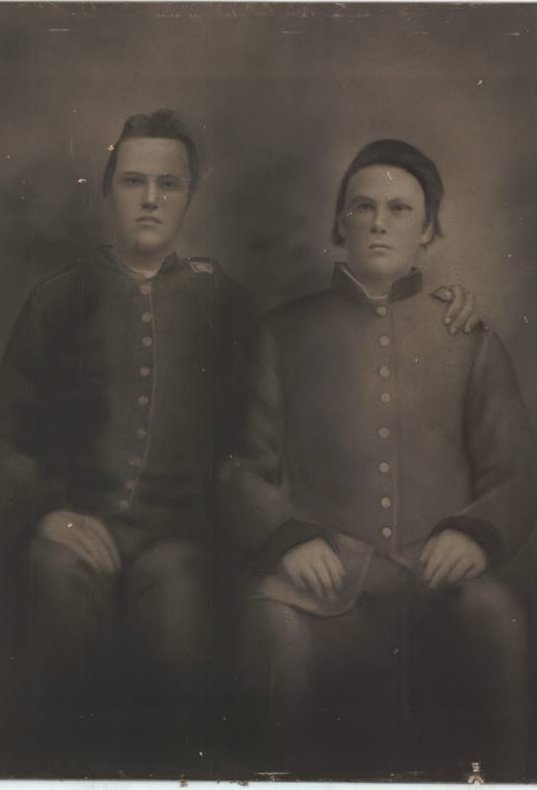 Booker W. Hopper left, Daniel H. Hopper, right. Photo courtesy of Mr. William D. Hopper family, descendants of Booker Hopper.
Three Hopper brothers from Oglethorpe County, Georgia, served in Company E, Booker W, Daniel H. and William "Whit" Hopper. These men were the sons of Jonathan Hopper, of Oglethorpe Co, Ga. Two of these brothers gave their lives fighting with the 38th Georgia Regiment, Daniel was killed at Second Manassas, 8/28/1862 and William "Whit" Hopper was believed to have been mortally wounded in the battle of Fort Stedman, Petersburg, Virginia, on 3/25/1865, and died 4/16/1865, just seven days after General Lee surrendered at Appomattox.
Hopper, Booker W. (Booker Woodson Hopper) - Pvt. 9/29/1861. Surrendered at Appomattox, Va. 4/9/1865. Born 5/12/1841 in Oglethorpe Co., Ga., according to 1921 Ala. Census of CSA Soldiers. Stated he was wounded at battle of Fredericksburg, 12/13/1862. Died 5/19/1931. Buried at Liberty Baptist Church Cemetery, Autauga Co., Ala., no dates on stone.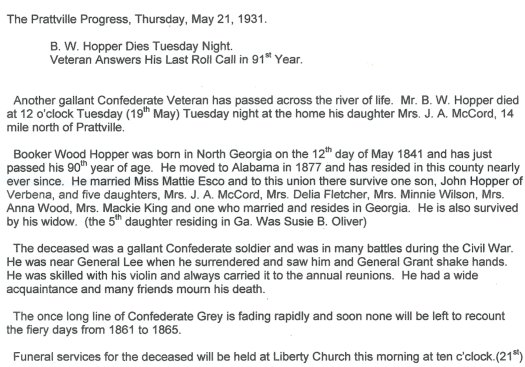 Hopper, Daniel H. - Pvt. 9/29/1861. Killed at 2d Manassas, Va. 8/28/1862. Born in Ga. about 1845. Brother of Booker W. Hopper. Confederate Service Record contains a claim filed in Oglethorpe Co., Ga. by his father, Jonathan Hopper, for any unpaid monies due his soon at the time of his death. Burial site unknown.
Hopper, W. W. (William Whit Hopper) - Enlisted as a Pvt. in Co. B, 8th Regiment Alabama Inf. 5/13/1861. Transferred to Co. E, 38th Regiment Ga. Inf. as a Corp. (being a citizen of Ga.,) 4/1/1864. Wounded in right thigh by gunshot, date and place not given. Captured in Jackson Hospital at Richmond, Va. 4/3/1865, and died there of wounds 4/16/1865. Born in Ga. about 1841. Buried at Hollywood Cemetery, Richmond, Va., buried in unknown section, unknown lot, according to cemetery records.