Have a photo of this soldier you'd like to share? Have a bio or obituary of your ancestor? If you send it to me at dnichols28@verizon.net I'll post it on this website.
---------------------------------------------------------------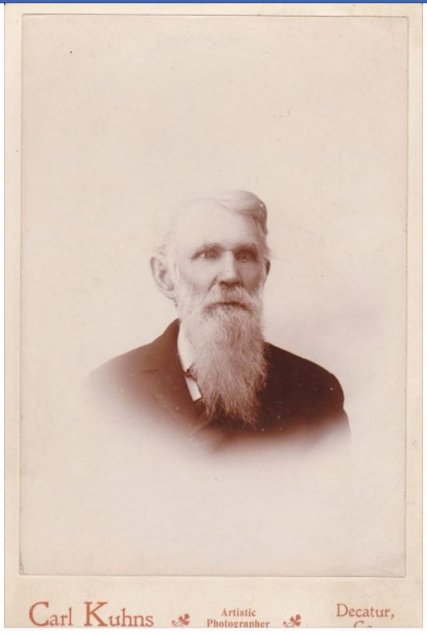 John Gray Rankin was born December 11th, 1815 in Massachusetts. He moved to Georgia about 1835, where he married his wife Eliza on July 23, 1854. Rankin joined Stone Mountain Masonic Lodge No. 111 of which he was serving as Worshipful Master when, on September 26, 1861, he enlisted at DeKalb County in the "Murphey Guards." He was first elected lieutenant; then on December 1, 1861, he was elected captain. Transferred to the "McCullough Rifles" in April 1862, he was retained as that company's captain.
Rankin received commendation for his participation at the battle of Fredericksburg, December 13, 1862. While temporarily in command of the regiment in May 1863, he was credited with foiling an escape by a large number of yankee prisoners taken during the battle of Chancellorsville. Over a year later, he was wounded in the right elbow and captured at the third battle of Winchester, September 19, 1864. Initially sent to Point Lookout military prison in Maryland, he wouldn't write to his relatives in Massachusetts until transferred to Washington's Old Capitol prison in January 1865. A month later, he was moved to Fort Delaware, Delaware, refusing to take the oath of allegiance until he heard that all Confederate armies had surrendered. He wasn't released until June 17, 1865.
Rankin returned to DeKalb County where he resumed his trade as a stone cutter, eventually becoming a quarry superintendent. He also continued his association as an active Free Mason in the Stone Mountain Lodge. Rankin died October 16, 1902 at age 86 and is buried at Stone Mountain Cemetery, DeKalb County, Georgia. The service of John Gray Rankin was specially honored at The Confederate Memorial Camp's 2000 Confederate Memorial Day ceremony.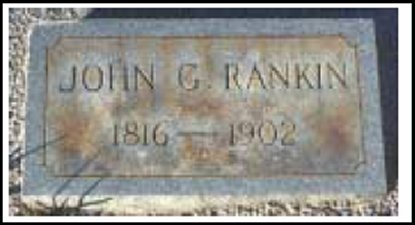 Source:
Confederate Veterans of Stone Mountain
By Chris Davis
A Project of The Confederate Memorial Camp 1432, 2000
---------------------------------------------------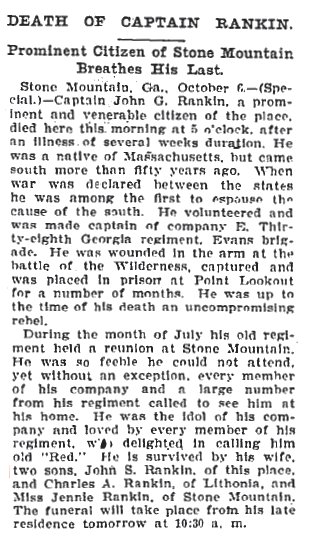 Capt Rankin was first assigned to Company A, but it became too large and was split to form Company D and he took command of this company.