Have a photo of Capt. Eberhart?
Have a bio or obituary of your ancestor? If you send it to me at dnichols16@cox.net I'll post it here.
-----------------------------------------------------------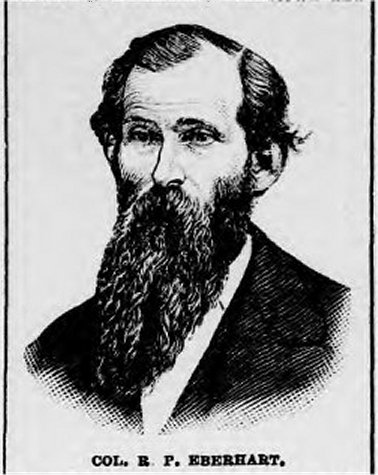 Obit COL. ROBERT PATTON EBERHARDT.
Confederate Veteran July 1907.
COL. ROBERT PATTON EBERHARDT.
The death of Col. R. P. Eberhardt in Atlanta, Ga., during January last closed a career that was remarkable in many respects. He was born in Madison County, Ga., in 1834, and received his education in that and Elbert County. He always had a great love of country and for true liberty, and, being fond of an active life, when but little more than twenty one years of age he enlisted in the Gen. William Walker expedition to Nicaragua. He faithfully endured the hardships of that service and received an honorable discharge. He returned to Elbert County, and with the opening of the Civil War his patriotic spirit was again aroused, and he enlisted with the "Goshen Blues," which he commanded and which company became a part of the legion organized at Camp Kirkpatrick, between Atlanta and Decatur, this legion being composed of infantry, artillery, and cavalry, to serve three years. The legion was sent to Savannah, and when leaving there for Virginia several changes were made, separating the infantry, which was afterwards known as the 38th Georgia Regiment and which was first in the brigade commanded by Gen. A. R. Lawton under Stonewall Jackson, and later in the famous Gordon Brigade, subsequently commanded by Gen. C. A. Evans.
In 1862 Captain Eberhardt was promoted to major of his regiment, afterwards to lieutenant colonel, and for a time was in command of his regiment. He was wounded at Sharpsburg, but rejoined his regiment as soon as able, and participated in the many battles engaged in by that famous regiment. The 38th Georgia, with the Evans Brigade, was in the last fight and the last charge of the army, on the morning of April 9,1865.
He returned to Georgia after the war, and in 1875 located in Athens, where he became a prominent business man. He went to Atlanta in 1884, but retired from active business about fifteen years ago on account of ill health, and had since lived his good life in a quiet way. He was married in September, 1861, to Miss Emma Priscilla Hunt, of Elbert County, who survives him with seven children.