Do you have a photo of this soldier? Do you have an obituary? Additional information on this soldier? Can you tell the story of your ancestor who served in 38th Ga.? If you send it, I'll post it here. Please email me at dnichols28@verizon.net.
------------------------------------------------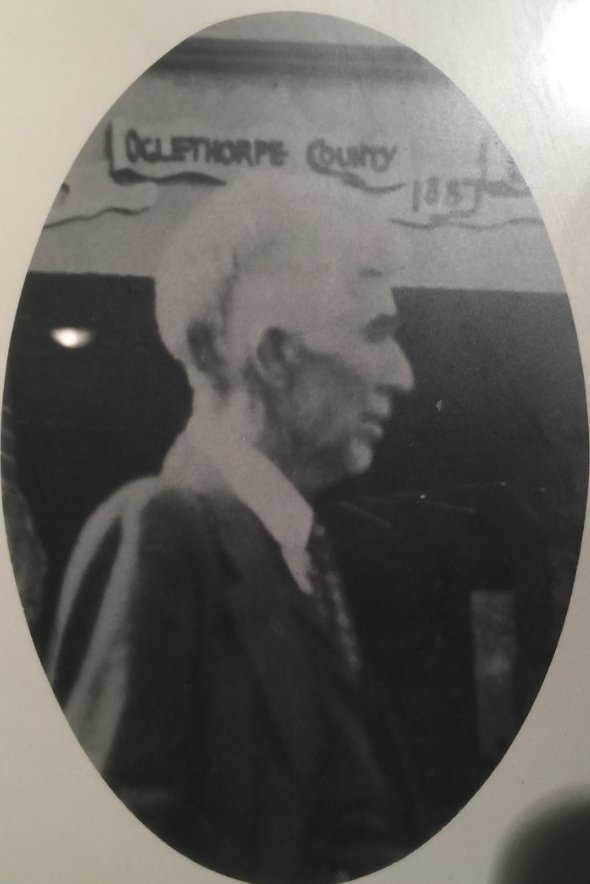 Post War Photo, Located at Lexington, Ga. Mason's Lodge
Joel Josiah Bacon - Pvt. April 29, 1862. Appointed 1st Sgt. January 1863. Discharged, furnished George Cusick as substitute, April 30, 1863.
Was promoted to 1st Sgt Nov. 1st, 1862, after Sgt W. J. Smith was killed at Antietam. At home on furlough according to CSA company muster roll dated Feb. 28th, 1863. Source: CSA service record.
Joel J. Bacon was the son of Charles Bacon (1794 – 1837) and Sarah Dupree (1805 – after 1834)
1860 US Federal Census
Name: Joel Bacon
Age in 1860: 25
Birth Year: abt 1835
Birthplace: Georgia
Home in 1860: Ga. Militia District 233, Oglethorpe, Ga.
Post Office: Lexington
Value of Real Estate: $1,300
Value of Personal Property: $1,275
Occupation: Farmer
Household Members:
Name Age
Joel Bacon 25
Emily S Bacon 26
Martha Bacon 5
Richard Bacon 4
Lewis Bacon 6/12
Obituary
Oglethorpe Echo Newspaper
Friday, December 4th, 1903
Though it had been almost hourly anticipate for several months, the death of Hon. Joel J. Bacon, which occurred at his home in this place at five o'clock Wednesday morning, was none the less a saddening shock to his host of friends in the town and county. He had won and held the esteem of, we might safely say, every citizen of the county. He was born near Lexington, June 13th, 1835. Practically all of his life has been spent in our midst. Fifteen years ago he was elected Ordinary and the county never had a more efficient officer. He administered the affairs of his office with marked ability and strict adherence to duty, yet in a manner so courteous to all, he never marred in the least pleasant relations between himself and those who had business with him.
He was married in 1853 to Miss Emily Howard and had he lived but until December 14th, they would have rounded out half a century of model married life. To them were born six children, all of who survive save an only daughter who preceded him to the beyond only a few years since. His departure we lament as a sad loss to our entire community. Yesterday morning at eleven o'clock, after funeral services conducted by his pastor at Salem church, his remains were laid to rest with Masonic burial services.
Obituary of Joel Bacon's brother, John W. Bacon
Oglethorpe Echo Newspaper
Friday, Jan. 5th, 1900
Sadness superseded happy good cheer with the people of Lexington on Christmas Day when the telegraphic news was received that Mr. John W. Bacon has peacefully passed away at his home in Maysville that morning at 7 o'clock. John Warren Bacon was born in Jefferson, Jackson Co., Ga., November 22nd, 1824. His father, Charles Bacon, died young leaving a widow and three minor children, John W. Bacon, a sister, and our worthy Ordinary Joel J. Bacon. Soon after his death, the widow, Sarah Deupree, removed to Lexington with her children. John was quite a boy when he came to Oglethorpe to live and most of his boyhood days and most of his life was spent here. Early in his life he fell in love with Mary E. Jordan, daughter of Hon. Henry Jordan, Judge of the Inferior Court of Oglethorpe County and they were married. The issue of this marriage were several children, all whom now are dead excepting Mr. Charles Bacon, a successful merchant of Maysville and author. After the death of his wife, he married Mrs. Caroline Thompson by whom he had no children. When a mere boy he joined the Methodist Church and was a member of the first temperance organization in the State. His remains were brought to Lexington and after the memorial services were held in the Methodist Church on the 26t of December, he was laid to rest in the Presbyterian Cemetery.