Do you have a photo of this soldier? Do you have an obituary or additional information on this soldier?
Or, can you tell the story of your ancestor who served in 38th Ga.? If you send your ancestor's story, I'll post it here. Please email me at dnichols16@cox.net.
--------------------------------------------------------------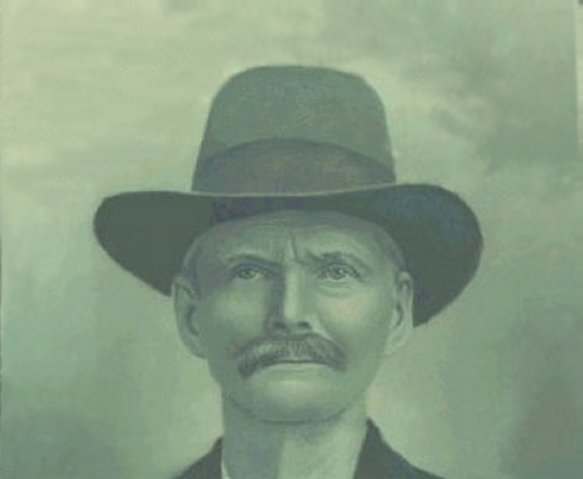 Have a bio of your ancestor? If you send it, I'll post it here.
Private Lindsey B. Partain was born Jan 13th, 1843 in Elbert Co. Georgia. He was son of Henry Carter Partain, also a member of Co F., and Cynthia Powell Partain. He enlisted along with his father, Henry Carter Partain, on April 6th, 1862, at Camp Bartow, Savannah, Ga, for 3 years or the duration of the war, both received a $50 bounty for enlisting. While Lindsey was only a boy of 19 years of age at enlistment, his father was 50 years old.
Once the 38th Ga arrived in the Shenandoah Valley to join Stonewall Jackson's army, the regiment immediately began a grueling, 80 mile march to Richmond, Va., to join Robert E. Lee's army in attacking the Federal army poised on the outskirts of Richmond. The troops were shuttled "leap frog" by train to speed the trip. One unit would ride the train for 20 miles or so, then the train would return for another unit while the first unit began marching. This was the first hard march the 38th Ga. made during the war and they hadn't learned the lessons of Jackson's veteran soldiers in marching with light equipment. Most men had heavy loads to carry, with much unnecessary equipment; one brigade soldier said some men even carried pillows! The soldiers were teased mercilessly by Jackson's veterans, due to their heavy loads, with many not so humerous jibes such as, "What wagon train are you packing for?" The hard march took its toll on the men of the 38th Ga. and quickly weeded out many men unfit for the hard life of a soldier. Lindsey's father, Henry Carter Partain, succumbed to rigors of this march and quickly discovered soldiering was a young man's profession. He was examined by a surgeon at Fredrick Hall, Va., just outside Richmond, and found unfit for military service. He was issued a discharge on Jun 27th, 1862.
Though Lindsey's father was now discharged, Lindsey wasn't exactly left alone in Co. F. His uncle Wiley Powell was also assigned to Co F, along with Wiley's two sons, William Joseph and James Lewis Powell, who were also about Lindsey's age. Many of their neighbors and other relatives also served in Co. F. Lindsey probably spent much of his time with his Uncle and cousins, until all three were killed or died of disease.
The same day his father was discharged, the 38th Ga. fought in the battle of Gaines Mill, also known as the 1st battle of Cold Harbor, June 27th, 1862. The 38th Ga. suffered very heavy casualties and Lindsey was among the wounded, but the 38th Ga. broke the Federal line and helped capture five cannon. The nature of Lindsey's wounds are unknown, but it must have been very serious since he was absent from the unit until Jan of 1863. Lindsey was present according to unit muster rolls for Jan & Feb 1863, but is listed as "absent, wounded," for Mar – Jun 1863. Once Lindsey rejoined the 38th Ga. in July 1863, he was present until the last muster roll on record for Co. F, which is dated Nov 4th, 1864. Lindsey does not appear among the 105 soldiers of the 38th Ga surrendering at Appomattox Court House.
Evidence suggests that between Nov 1864 and April 9th, 1865, Lindsey left the unit and the reason has been lost to history. Confederate records become progressively sparse beginning in late 1864, due to the strains on the Army of Northern Virginia and Confederate government. Plus, many records were destroyed to prevent them from falling into Federal hands. What is known is Lindsey survived the war and returned to Elbert County, Ga. He married Martha Pennina Rucker on Dec 6th, 1866.
Lindsey and Martha had 13 children, 10 of whom survived to adulthood:
1. Anna "Nancy" Partain 1869 - 30 Aug 1948
2. Curren A. Partain 16 Apr 1872 - 19 Aug 1879
3. Elizabeth A. Partain 01 Jun 1874 - 10 Sep 1879
4. Gibson Lee Partain 1876 - 30 Dec 1936
5. Austin W. Partain Apr. 1878 - 04 May 1946
6. Allie Levania Partain Jan. 04, 1881 - 17 Feb 1917
7. Callie E. Partain Nov. 1881 - unknown
8. Betty R. Partain April 1884 - 09 Nov 1953
9. Phillip D. Partain Jul. 22, 1885 (died as baby)
10. Alexander Reese Partain Dec. 1887 - Sept 1955
11. James Fury Partain Sep. 25, 1888 - May 1966
12. Dillard C. Partain Sept. 1891 - 07 Jun 1925
13. Coy Clayton Partain Jul. 26, 1893 - 27 Nov 1951
Lindsey was a farmer all his life and a member of Rock Branch Baptist Church. His wife Martha died in 1917 and Lindsey died Mar. 22nd, 1921. Lindsey and Martha are buried at Rock Branch Baptist Church Cemetery, Elbert Co. Ga, along with several of their children.
Lindsey B. Partain was my great grandfather and I would be interesting in sharing information I have with other descendants. Please email me if you are related at dnichols16@cox.net Sincerely, Dale Nichols