UPDATE UPDATE! The 38th Georgia Volunteer Infantry is now on FACEBOOK! Please visit me on Facebook to ask a question, post a photo or Bio of your ancestor, or just say hello! UPDATE!
WRIGHT'S LEGION, AFTERWARDS
KNOWN AS THE THIRTY-EIGHTH
GEORGIA REGIMENT.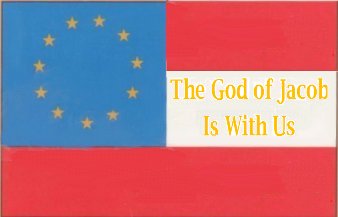 Webmaster's depiction of Murphy Guards company flag as described in historical writings. Thanks to Mr. Greg Biggs for historically correct suggestions in the creating this design.
The Thirty-Eighth Georgia Regiment was formed in the summer of 1861. It consisted of thirteen full companies, and was stationed at Camp Kirkpatrick, two miles west of Decatur, Ga., and four miles east of Atlanta, on the Georgia railroad.
The Hon. Augustus R. Wright,of Rome, Ga., was elected colonel,
George Wasington Lee, of Atlanta, was elected lieut colonel,
Lewis J. Parr, of Atlanta, was elected major,
John H. Sherrod, of Swainesboro, Ga., was adjutant,
Barney D. Lee, of Atlanta, was sergeant-major,
William J. Arrington, M. D., of Louisville, Ga., was regimental surgeon
John M. Quinn, of Rome, Ga., was commissary, W. J. Jernigan,
Lexington, Ga., was quartermaster
John H. Mashburn was regimental chaplain.
The following companies composed the "Legion," as it was then
called:
1. Company A, known as Murphey Guards, of DeKalb county. Captain, John Yancey Flowers; lieutenants Pool, Marabel and Miller.
2. Company B, "Milton Guards, Milton county. Captain, George McClesky; lieutenants, McMakin, Philips and Joseph J. Maddox.
3. Company C, "Ben Hill Guards," Emanuel county. Captain, William L. McLeod; lieutenants, Wright, Williamson and Oughsley.
4. Company D, "McCullough Rifles," DeKalb county. Captain, John G. Rankin (Old Reliable); lieutenants, John W. McCurdy, George R. Wells, and Baxter.
5. Company E, "Tom Cobb Infantry," Oglethorpe county. Captain James D. Mathews; lieutenants, Lester, Daniels and Hawkins.
6. Company F, "Thornton Volunteers," Hart & Elbert counties. Captain, John C. Thornton; lieutenants, Teaseley, Brown and Jackson O. Maxwell.
7. Company G, "Battey Guards," of Jefferson county. Captain, William H. Battey; lieutenants, John W. Brinson, Vaughn and Farmer.
8. Company H, "Goshen Blues," Elbert county. Captain, Robert Patton Eberhart; lieutenants, James C. Hall, John Oglesby, and Andrews.
9. Company I, "Irwin Invincibles," Henry county, Ala, Captain, J. E. Jones; lieutenants, Irwin, Jones and Campbell.
10. Company K, "Bartow Avengers," DeKalb county. Captain,
William Wright; Lieutenants, Gober, Goodwin and Stubbs.
11. Company L, "Joe Thompson Artillery," Fulton county. Captain,
Cornelius. R. Hanleiter; lieutenants, Augustus A. Shaw, Craven and McDaniel.
12. Company M, "Chastatee Artillery," Forsyth county. Captain,
Thomas H. Bomar; lieutenants, John Hendrix, McDaniel and Hendrix.
13. Company N, "Dawson Farmers," Dawson county. Captain, W. M.
Blackburn; lieutenants, Hill, Marshburn and John W. Goswick.
The legion was armed with Enfield rifles. It was ordered from Camp Kirkpatrick to Savannah, Ga., and was stationed first on the shell road, and was ordered from there to the Skidaway Island; from there to the Isle of Hope, and from there back to Savannah, where it camped in Forsyth Park.
Here it learned to drill almost to perfection, for this was all it had to do except camp guard duty until the latter part of May, 1862, when it was ordered to Richmond, Va., with Gen. A. R. Lawton's brigade, which was formed out of six of the best drilled regiments on the Georgia coast.When we were ordered to Virginia, the artillery companies L and M were detached and left at Savannah, and Company I, the Alabama company, was transferred from the Thirty-eighth to the Sixtieth Georgia Regiment, much against its will and the will of the whole regiment, for they had all grown attached to each other.
It was about 1,200 strong when it was organized and fought in most of the bloodiest battles of the war in the eastern theather. When General Lee surrendered at Appomattox Court House on April 9th, 1865, only 105 men were left to answer the colors. It was indeed a noble regiment.
"Not for fame or reward -
Not for place or for rank -
Not lured by ambition -
Or goaded by necessity -
But in simple -
Obedience to duty -
As they understood it
These men suffered all -
Sacrificed All -
Dared all - And Died -"
Inscription on the Confederate monument at Arlington National Cemetery, by Dr. Randolph Harrison McKim,


Source: A Soldier's Story Of His Regiment, By G. W. Nichols